032 The One with Dick Hourigan,  What I've Learned From 45 Years In The Water Treatment Industry.
Episode 32: Show Notes.
Today on the show we welcome Dick Hourigan. Dick is a Retired US Army Special Forces Lieutenant Colonel and an Analytical Chemist who has been in the water treatment industry since 1973. After being retrenched from his job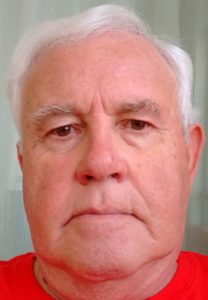 in 1992, Dick founded Richard Hourigan Inc., as an Illinois water treatment company serving Illinois and southern Wisconsin customers. In 2007, Dick also launched his own website, www.RichardHouriganInc.com and in 2009 opened www.TheWaterTreatmentStore.com to sell his water treatment products on the global market. In 2010 Dick also opened www.MissedPerceptions.com, which is a blog that serves to facilitate communication with global customers. 2018 will mark the 45th year of Dick being in the water treatment industry. He has had a lot of unique experiences and today shares the trials and the triumphs of being a water treater for the most part of his life. There is so much value in hearing the experience of others in this industry and in this episode, Dick walks us through his first jobs, the process of starting his own company and encourages us to never give up and to do whatever you do, well. Take a listen! [0:02:00.0]
Key Points From This Episode:
Find out the three cornerstones in Dick's life and career. [0:02:28.0]
How Dick found himself in the water treatment industry. [0:03:08.0]
Dick's process and advice for approaching customers. [0:07:27.0]
Learn more about Dick's first beginnings as a sales manager. [0:11:00.0]
How Dick picked himself up after getting fired and discovered a new path. [0:17:30.0]
Why Dick decided to start his own company and how he did it. [0:20:30.0]
When Dick knew that he had made it as a business owner. [0:24:50.0]
Find out why Dick has never hired a single employee. [0:26:05.0]
Why Dick's biggest accomplishment was achieved in his first job. [0:26:50.0]
The most prolific changes Dick has seen in the water treatment industry. [0:31:48.0]
Why Dick applauds the stupid things that happen in the field. [0:34:30.0]
Hear Dick's advice for anyone starting out in the industry. [0:36:15.0]
Where do you go to learn more about water treatment? [0:37:45.0]
The first steps Dick takes in any troubleshooting process. [0:42:40.0]
Questions from the mail bag! [0:52:00.0]
And much more!
 Tweetables:
 "Almost none of us got into this business intentionally." — @dhourigan [0:03:12.0]
 "I thought hiring an employee is either going to be the best or the worst thing I ever do." —  @dhourigan [0:26:05.0]
"Anything that is worth doing, is worth doing well." — @dhourigan [0:36:15.0]
 "It's not what happens in our life that defines us, it's how we respond to those things." — @dhourigan [0:49:40.0]
Links Mentioned in Today's Episode:
Dick Hourigan on LinkedIn – https://www.linkedin.com/in/dickhourigan/
Dick Hourigan Inc – https://www.richardhouriganinc.com
The Water Treatment Store – https://richardhouriganinc.com/sunshop/
Dick Hourigan on Twitter – https://twitter.com/dhourigan
General Chemistry by Linus Pauling – http://amzn.to/2GW3Epr
The Narrative of Life by Frederick Douglass – http://amzn.to/2BO3lNZ
Killing Lincoln by Bill O'Reilly – http://amzn.to/2BNnnIE
Killing Patton by Bill O'Reilly – http://amzn.to/2BhaDJ3
Uhlig's Corrosion Handbook – http://amzn.to/2siDLN1
✕
Get the Top 5 CWT Tips!
Working with those endeavoring to achieve this designation, I have learned a few things that they all did thereby helping them to succeed. This document is a list of those items that will help you get your CWT!