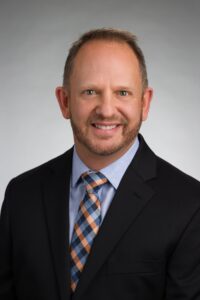 Last week, we heard from Tower Water's Russell Baskin. He talked about the letter he received from FedEx with the Legionella Legislation from the Commissioner of New York City that forever changed how he does business. He set the scene for what he is about to tell us today: ways we can all start scaling up our Legionella knowledge BEFORE Legionella Legislation pushes us to make hasty adjustments to the ways we treat water in our local communities.
Russell is an expert in water treatment, waterborne diseases, and Legionella compliance. He holds a number of certifications including a NY and NJ Pesticide Applicator License, a Certified Water Technologies (CWT) accreditation from the Association of Water Technologies (AWT), and an OSHA 30 Certification. 
If you haven't listened to episode 265  yet, I suggest you listen to that episode first before listening to this one. My hope is that you learn not only about Legionella but also what you can do as a Water Treater to spread awareness about this bacteria with your customers and team
Bottom line: Russell Baskin is going to give you the best advice on what to do before Legionella Legislation is passed in your area. 
Your roadside friend, as you travel from client to client. 
-Trace 
Timestamps: 
Upcoming Events and Thinking On Water With James [02:14]
Continuing the conversation about Legionella and a FedEx package with Russell Baskin [7:00]
Top things to start recording today before Legionella Legislation passes in your area [10:30]
What is it like to have an account in New York, NY right now? [12:55]
What do you wish Legislators knew about Legionella that Water Treaters already know? [15:22]
What is the ASSE-12080 Certification? Who needs it, and why do we have to be aware of it?  [17:55]
NYC vs New York State's Legislation [21:00]
Writing a Legionella Plan for your clients [22:44]
Explaining Legionella to your clients and working with them to make things better [26:00]
Protecting your water treatment company without throwing your client under the bus [30:37]
Convincing a customer to act before it's too late [34:59]
The future of Legionella Legislations in New York City [38:24]
Lightning round questions [41:10]
Thinking On Water With James: 
In this week's episode, we're thinking about choosing a Cycles of Concentration set point for cooling towers and boilers…or, as Trace likes to say, Concentration Ratio. Back in March, we thought about how to calculate the Cycles of Concentration in this series. Now, let's think about how we choose the set point. What will limit how high we can concentrate water in a cooling tower or boiler? What is the basis for these limits? How do you know what the limits are? What guidelines do you use? How does the chemistry you apply to a system impact what the upper limits may be? What water analysis should you run on a system in the future to ensure you are staying within your limits with no problems? Take this week to think about choosing the set point for Cycles of Concentration or Concentration Ratio. 
Quotes:
"You need to get your resources in order. You need to start up things today so you are ready for an emergency tomorrow." – Russell Baskin
"Start recording: model numbers, serial numbers, number of cells, operational data, volume, recirculation rate, filtration vs. no filtration, how it backwashes, any kind of areas that would cause stagnation, what floors the cooling towers are on, and what floors the machinery and pumps are on because inevitably you'll need to a drawing of those systems before laws are passed in our area so you are prepared." – Russell Baskin
"It's (ASHRAE 188) forcing Water Treatment companies to go up and look at the cooling tower, fix alarms on Water Treatment equipment, and test that pumps and controls are working, Legionella testing every 90 days, a full inspection of the tower, and a twice-a-year cleaning." – Russell Baskin
"Water treatment is as much an art as it is a science, and what may work here might not work properly across the street." – Russell Baskin
"You should have an ASSE-12080 Certification in order to write water management plans. It puts a practical spin on Legionella management. I recommend it for any professional water treater." – Russell Baskin
"You want to be an expert in your field because if you are not going to be, one of the major companies out there is going to be."- Russell Baskin
"We need to prove to our clients that we're doing best practices all the time." – Russell Baskin
"The best advice I can give all water treaters: There could be talk about Legionella Legislation right now being worked on by your state legislator. You might not even be aware of it. If there is a draft- get a copy, take it to an attorney, and figure out what you should do about it." – Russell Baskin
"ASHRAE 188 is not just for cooling towers, it is for the entire building." – Russell Baskin
Connect with Russell M. Baskin:
Phone: (212) 518-6475
Email: rbaskin@towerwater.com
Website: www.towerwater.com
LinkedIn: in/russell-baskin-77437216
Visit our Scaling UP! H2O Legionella Resources Page:
Links Mentioned: 
Get your ASSE-12080 Certification 
265 The One About Legionella and a FedEx package, Part 1
Events: 
Check out our Scaling UP! H2O Events Calendar where we've listed every event  Water Treaters should be aware of by clicking HERE.
Books Mentioned: 
The Gap and The Gain by Dan Sullivan & Dr. Benjamin Hardy
Procrastinate on Purpose by Rory Vaden
Revenue Growth Engine by Darrell Amy