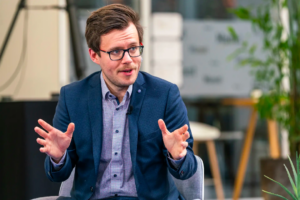 Trace Blackmore invites Antoine Walter, host of the (don't!) Waste Water Podcast and Senior Business Development Manager at Georg Fisher, on the show to discuss their mutual love of hosting podcasts about water. 
What started as a way for Antoine to connect with others during the COVID-19 lockdown has transformed into an inspirational podcast show where water professionals share their fields of expertise and explore the latest water technologies with the (don't) Waste Water listeners.
In this Episode Trace asks Antoine:
What are the lessons we can learn from Jean-Claude Van Damme when it comes to hosting a podcast?
Who is Antoine's dream podcast guest, AKA, the White Whale?
What will the future of water look like in 30 years?
How have sales changed since the pandemic, and are those changes here to stay?
Why start a water treatment podcast? 
Where to go for podcast topic inspiration? 
What did he wish he knew on his first day as a podcast host?
Do podcasts transcend borders?
Why does Antoine love wastewater?
Bottom line: Antoine Walter shares how he educates, entertains, and inspires water professionals globally weekly with his globally-reaching podcast.
Timestamps: 
October's Scaling UP! H2O theme is Water Podcasts and Upcoming Events for Water Treatment Professionals [01:00]
Inspiring interview with (don't!) Waste Water podcast host and Senior Business Development Manager, Antoine Walter [08:00]
Lightning round questions [46:00] 
Thinking On Water With James [01:00:00]
Thinking On Water With James: 
In this week's episode, we're thinking about how water quality varies within your area. How do parameters such as hardness, alkalinity, silica, and conductivity vary around your area? How do they change between surface water and groundwater sources? Does the city water quality vary according to the water source they may be using at that time? How does this impact the water treatment programs you are managing? How can it impact the pretreatment, chemistry, and water efficiency? Is the end user aware of these potential impacts? Take this week to think about how water quality varies within your area and the impacts it may have. 
Quotes:
"A conference is a way to take the temperature of the industry." – Antoine Walter
"If you build storytelling into your podcast episode you'll catch people and have key take-home messages." – Antoine Walter
"I want to be in wastewater. You can do so many rewarding things in this specialty" – Antoine Walter
"Water is essential and the bedrock of all other industries." – Antoine Walter
Connect with Antoine Walter: 
Email: antoine.walter@georgfischer.com
LinkedIn: in/antoinewalter1
Website: www.georgfischer.com
Don't Waste Water Podcast: dww.show 
The Water Show with Björn Otto: company/the-water-show/about
Subscribe to the (Don't) Waste Water Newsletter: https://www.linkedin.com/newsletters/don-t-waste-water-6884833968848474112/ 
Events: 
Check out our Scaling UP! H2O Events Calendar where we've listed every event Water Treaters should be aware of by clicking HERE  or using the dropdown menu. 
Links Mentioned: 
Trace's interview on the (don't) Waste Water Podcast
Shure SM7B Vocal Dynamic Microphone
International Water Association (IWA)
Sustainable Development Goals – Goal 6: Ensure availability and sustainable management of water and sanitation for all
3 Paths to Reach SDG 6 by 2050: All Our Hopes are on #3! (DWW episode with David Lloyd Owen)
What would it Empower, if Water Actually Became a Non Fungible Token? (DWW episode with Katrina Donaghy)
Listen Notes: The best podcast search engine
Books Mentioned: 
Where the Water Goes: Life and Death Along the Colorado River by David Owen
The Worth of Water by Gary White & Matt Damon
Global Water Funding by David Lloyd Owen
SPIN Selling by Neil Rackham
Water Always Wins: Thriving in an Age of Drought and Deluge by Erica Gies
The Sustainability Puzzle by Alice Schmidt and Claudia Winkler