The 7 Key Qualities of Great Leaders and Finding Your Sweet Spot To Success With Pat Williams
Episode 40: Show Notes.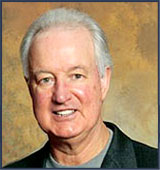 On today's episode, we welcome Pat Williams. Pat was the keynote speaker at the 2016 AWT Convention, as well as,  a basketball Hall-of-Famer and co-founder and senior vice president of the NBA's Orlando Magic. As one of America's top motivational speakers, he has addressed thousands of executives in organizations ranging from Fortune 500 companies and national associations to universities and nonprofits. Pat is also the author of over 100 books, his most recent title being Success Intersection: What Happens When Your Talent Meets Your Passion. Pat is an expert on the topic of leadership, building teams and dreaming big.
In this episode, he shares his wisdom and insight into what makes a great leader and why we should all be living in our sweet spot! We hope this episode will inspire you to be a better water treater, a better leader in the industry and an avid chaser of your own dreams. [0:01:45.0]
Key Points From This Episode:
Why Pat moved to Orlando and wrote a biography about Walt Disney. [0:02:20.0]
Dreaming big dreams and applying Walt Disney's lessons to your own life. [0:04:50.0]
Why Pat believes the most important thing as a leader is to ask questions. [0:07:40.0]
Find out more about Pat's most recent book, Success Intersection. [0:09:24.0]
Living in the sweet spot: Where your talent meets your biggest passion. [0:09:40.0]
How do you know when you have or haven't found the sweet spot? [0:10:50.0]
Why adults need to be investing in children's talents and passions. [0:11:30.0]
Pat's advice for adults who haven't found their sweet spot yet. [0:12:52.0]
Discover the seven key characteristics that great leaders have. [0:14:35.0]
Can we develop leadership qualities and learn how to lead? [0:16:45.0]
The last three books that Pat has read and how he's written over 100 of his own. [0:20:15.0]
The advice Pat would have given to himself on his first day in professional sports. [0:22:15.0]
And much more!
Tweetables:
"If you can dream it you can do it." — @OrlandoMagicPat [0:05:20.0]
"The most important thing as a leader is to ask questions… and above all listen." — @OrlandoMagicPat [0:07:40.0]
"The best leaders are the greatest servants." — @OrlandoMagicPat [0:16:03.0]
Links Mentioned in Today's Episode:
Pat Williams Website – http://patwilliamsspeaking.com/
Pat Williams on Twitter – https://twitter.com/OrlandoMagicPat
Pat Williams on Facebook – https://www.facebook.com/OrlandoMagicPatWilliams
How to be like Walt by Pat Williams – https://scalinguph2o.com/40book1
The Success Intersection by Pat Williams – https://scalinguph2o.com/40book2
First Founding Father by Harlow Giles Unger – https://scalinguph2o.com/40book3
Golden Days by Jack McCallum – https://scalinguph2o.com/40book4
Sam Smith's books on the MBA – https://scalinguph2o.com/40book5