Hey Scaling Up Nation! If we have a worthwhile goal, it's hard, it takes a long time, and it's probably not fun. Water treaters are constantly on the go, in the car, working long hours, but we need to take the time to take care of ourselves.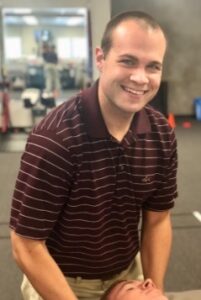 Today my guest is a physical therapist, Dr. Andrew Kneeburg. Dr. Kneeburg has helped me get out of pain, find some practical steps to keep me healthy, and inspired me to make better choices so I can keep doing the things I enjoy. He is passionate about getting people out of pain and moving again.
Dr. Kneeburg graduated from PT school in May of 2016 and has been practicing outpatient orthopedics for 5 years. He has such a refreshing and down to earth approach to stay healthy and I think if you listen to his advice in today's podcast, it could change the trajectory of your life for the better. I hope today's episode inspires you to take better care of yourself.  
Timestamps:  
Healthy goals for 2021 [00:01]
Dr. Andrew Kneeburg introduction [10:50]
What can we do so we stay healthy and not hurt ourselves as industrial water treaters? [15:20]
What's water got to do with it? [19:50]
Do we need to stretch every day? [22:30]
What are the exercises water treaters should be doing? [26:28]
What's the key to working out? [33:40]
What's the importance of sleep? [35:10]
What to watch out for when starting a new exercise routine [36:23]
Lightning round questions [40:30]
The 7th Habit, the Habit of Self [44:10]
James' Challenge: Update your LinkedIn profile to be a calling card for your prospect or customer versus just a resume for your next job. #JC21 and #ScailingUPH20 [ 50:26]
Quotes: 
"Stay active, stay healthy, eat the right things" – Dr. Andrew Kneeburg 
"Strengthen yourself so you can be healthy for the long-haul." – Dr. Andrew Kneeburg 
"There isn't one single diet that works for everyone, find a diet that works for you." – Dr. Andrew Kneeburg 
"Do the exercise movements that simulate what you're doing at work to help you stay healthy." – Dr. Andrew Kneeburg 
"You don't have to be at the gym 2-3 hour, you just need 20-45 mins of moderate to strenuous exercise." – Dr. Andrew Kneeburg  
"Bottomline: You only have one body and one life, take care of it." – Dr. Andrew Kneeburg 
"If we're not taking care of yourselves, then we cannot take care of others" – Trace Blackmore 
"What are we doing to take care of ourselves?"  – Trace Blackmore 
Links Mentioned: 
AWT (Association of Water Technologies) 
Books and Articles Mentioned: 
The Truth About How Much Water You Should Really Drink  
How much should the average adult exercise every day? 
A Systematic Review of the Effects of Exercise and Physical Activity on Non-Specific Chronic Low Back Pain 
7 Habits of Highly Effective People