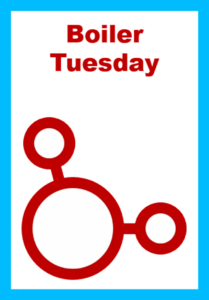 We are continuing our special series of episodes for Industrial Water Week and today's episode is all about boilers! Boiler Tuesday is about celebrating: 
boiler chemistry

 

cycles of concentration

 

energy efficiency

 

water efficiency, safety

 

boiler water analysis

 

blowdown control

 

calculations

 

corrosion minimization

 

scale/deposit minimization

 

water analysis

 

Much more!

 
If these topics excite you, you do not want to miss today's episode! Detective H2O will make an appearance. It's the perfect way to celebrate Industrial Water Week. Use the hashtag #IWW20 and let everyone know how you celebrate the most important week of the year. Gather the family and give our water cake recipe a try to celebrate #BoilerTuesday. (Can we link the water cake recipe here – I uploaded a PDF to the file)  
Be sure to check out our new Scaling Up! H2O shop to see our new water treatment merchandise!   
Timestamps:
Water cake recipe [02:00] 
Introduction to boilers [03:02] 
Industrial Water Treatment Jeopardy [03:45] 
Difference between steam boiler and hot loop boiler [06:20] 
Detective H2O [07:06] 
Trace's boiler story [13:50] 
Links Mentioned: