Happy Association of Water Technologies 2020 Convention week! If it weren't for COVID19, we would all be together right now. However, through the magic of technology, we are virtually together. Proving once again, we can get through COVID19. We can get through anything! We are Water Treaters!
Every year the Association of Water Technologies bestows an award called The Ray Baum Memorial Water Technologist of the Year Award. The Association of Water Technologies describes this award as follows: 
The Ray Baum Memorial Water Technologist of the Year Award, recognizing "outstanding entrepreneurial spirit and contributions to the field of water treatment," will be awarded at the Annual Reception and Awards Dinner held during the Annual Convention.   
The award is named after Ray Baum, one of AWT's founders. Baum viewed the association as a nurturing support network for small and medium-sized companies, to provide knowledge and activities to allow these companies to grow and compete in the worldwide marketplace. He was committed to the industry whose growth he helped build throughout his career. The recipient should exemplify these characteristics.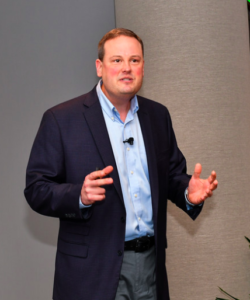 I am humbled to be the recipient of this award for 2020. Something to celebrate in a year that hasn't had a lot of celebration! Thank you to all who nominated me, and thank you to the AWT board for selecting me as this year's recipient. I look at this award as a symbol of the effect the Scaling UP! Nation! has had on so many, including me. Thank you for being part of The Nation! and being part of something that can elevate the entire water treatment industry.   
This award is given every year. Who do you think will be next? Will it be someone you know? A guest of this show? Or will it be you? I urge you to look for the qualities that this award celebrates in all water treaters, including yourself. If you would like to nominate someone, please click here.
 
Please enjoy this special episode. 
Timestamps:
The Ray Baum Memorial Water Technologist of the Year Award [01:50] 
The importance of mentors [07:05] 
The acceptance speech [07:45] 
Winner's history in water treatment [08:20] 
Scaling Up! H2O Podcast [10:00] 
Rising Tide Mastermind [11:09] 
Navigating the Pandemic while Innovating for the Future [20:15] 
Links Mentioned: 
AWT Interactive Annual Convention and Exposition 
Ray Baum Memorial Water Technologist of the Year Award 
154 The One With AWT President, Tom Brandvold, CWT