Today's guest is Bob Niemiec (KNEE-mick), Managing Partner at Twisthink, a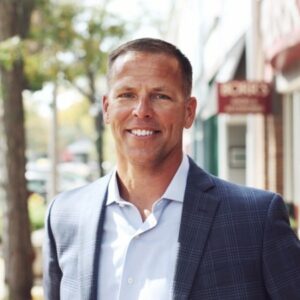 digital innovation partner working to help companies bring their new products or services to life. Through hands-on partnerships fueled by strategic insight, human-centered design, and advanced technology, the Twisthink team has consistently unlocked game-changing opportunities for clients. Bob Niemic and Tinktwist are entirely devoted to creating the ideal user experience, which allows their customers to become leaders in their industries and accelerate growth. 
We're going to take a deep dive into how to bring innovation into our companies, what it takes to build a great team, how AI can help us achieve our goals, and why Lean Management and Human-Centered Design are crucial to any company. 
Thank you, Bob, for coming on the show, sharing your insight and expertise, so we are equipped to rise above the mediocre grind and elevate ourselves to see a company's bright future driven by human-centered design. 
Your roadside friend, as you travel from client to client, 
-Trace 
Timestamps:  
Introducing Bob Neimic's game-changing approach to think differently [03:00] 
Great teams: Bringing together multiple skillsets and generations in the workplace [07:45] 
Operational excellence and innovational excellence [12:57] 
Lean Management and Human-Ceneted Design [20:51] 
What are the payoffs of innovation excellence? [24:05] 
What inspires your clients? [34:01] 
What's the biggest mistake you see your clients make? [37:30] 
What's the big takeaway you want people to know? [40:32] 
Lightning Round Questions [43:25] 
James' Challenge: "Check makeup water for ammonia." [49:05] 
Quotes: 
"Innovate. Accelerate. Grow" – Bob Neimic 
"There is nothing harder and more worthwhile than developing a great team." – Bob Neimic 
"You cannot grow without change." – Trace Blackmore 
"Operational excellence secures the present. Innovational excellence secures the future." -Roger Milliken 
"The skill of design or industrial design is a way to raise the bar for innovational excellence." – Bob Neimic 
"Human-Centered Design: Discovery, Analyze, Create, Develop." -Bob Neimic 
"Now more than ever, we need to take advantage of the digital age." – Bob Neimic 
"More empathy is critically important right now." – Bob Neimic 
"We cannot claim to be innovational excellent without diversity." – Bob Neimic 
Connect with Bob Neimic:
LinkedIn: in/robertniemiec
Links Mentioned: 
The Malcolm Baldrige National Quality Award (MBNQA) 
Charity Water – A nonprofit that deploys pumps to regions of the world where there is no access to clean drinking water, on a mission to end the water crisis   
A Practical Guide to Understanding AI 
Books Mentioned: 
So You Want To Talk About Race