It's a joy to have Paule Genest (Jen-nes) on the show this week to talk about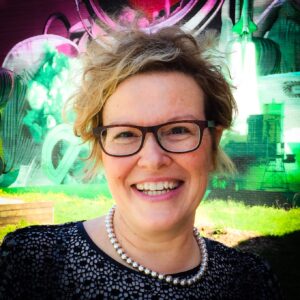 marketing. She is the founder and President of PGPR, specializing in coaching and growing your company's communications, marketing, and public relations department, elevating your team to the next level.  
 Paule Genest is Co-Chair of WOW (Women of Water at the AWT- Association of Water Technologies). Over the past 35 years, Paule has worked in public, private, cooperative, and philanthropic. Her clients, and I, particularly appreciate her creative spirit, her human approach to business, her kindness, and her great ability to connect people and rally them around a common vision to promote the influence of targeted projects.   
 Furthermore, she is an adjunct professor at Université de Montréal and Université de Sherbrooke, she teaches Social Responsibility and Public Relations. She holds a bachelor's degree in administration and marketing and holds the PRP (Professional in Public Relations) and ARP (Accredited Public Relations Professional) designations.    
Bottom line: Paule Genest is by far the best marketing person in the water treatment industry. Today, please listen to the things she shares with you, and if you do only one or two of them, your business' marketing is going to be miles above everyone else's. I urge you to start working on your marketing plan today. 
 Your roadside friend, as you travel from client to client. 
 -Trace 
Timestamps:  
Introducing Paule Genest, Accredited Public Relations Professional, Coach, Professor, and Co-Chair of WOW (Women of Water at the AWT- Association of Water Technologies) [6:50] 
An introduction to marketing [12:49] 
What KPIs should we look at in a marketing campaign? [25:08] 
How to lead a great marketing meeting [27:00] 
What are some of Paule's favorite marketing campaigns? [32:21] 
How to start marketing [36:05] 
How to budget for a marketing campaign [39:50] 
Lightning Round Questions [45:34] 
James' Challenge: "Calculate Holding Time Index (HTI) of a cooling tower." [51:55] 
Quotes: 
"Anything that has helped me on my career path, I put on this show." -Trace Blackmore 
"Paule Genest is by far the best marketing person in the water treatment industry." -Trace Blackmore 
"Life without water is not a life, water is essential." – Paule Genest 
"All of us will be a "marketer" at some point in our lives." – Paule Genest 
"Research is at the heart of everything in marketing." – Paule Genest 
"If you don't know your client's needs, you cannot meet their needs. Take the time to listen." – Paule Genest 
"When we implement a strategy, it's all about sharing the good news and learning from our mistakes." – Paule Genest 
"My favorite marketing campaigns move me; they make me cry or laugh." – Paule Genest 
"A brand is a promise." – Paule Genest 
"A step that is frequently overlooked, is the maturing of your launch. I stress soft launches with a small target audience to see if you hit your target. It gives you a chance to reassess, reinforce, or change your content." – Paule Genest 
"Be present and visible in the market." – Paule Genest 
"Return on investment and influence is key." – Paule Genest 
"We need to find a breakthrough idea and build around it. Stand out and be proud of what it is that you are and what you do." – Paule Genest 
Connect with Paule Genest:
Website: en.pgpr.ca
LinkedIn: in/paulegenest
Links Mentioned: 
Celeste Headlee – 10 ways to have a better conversation from TED Talks 
Books Mentioned: 
Playing To Win by A.G. Lafley and Roger L. Martin  
Live Big: The Entrepreneur's Guide to Passion, Practicality, and Purpose by Ajit Nawalkha 
Stand Out: How to Find Your Breakthrough Idea and Build a Following Around It by Dorie Clark 
The Elin Hilderbrand Collection: Volume 2: Nantucket Nights and The Blue Bistro by Elin Hilderbrand