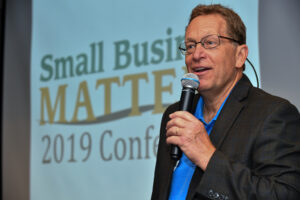 Trace Blackmore brings back podcast favorite Tim Fulton, President of Small Business Matters, Vistage Chair Emeritus, and Executive Coach back to the Scaling UP! H2O Podcast to talk about being a small business owner, leadership, how to become a better leader, Masterminds, and so much more!
Tim Fulton is one of Trace Blackmore's most trusted mentors. It is an honor to have Tim back on the show to talk about a topic that will surely help your business, your employees, and you as a leader.
Tim answers:
What is Vistage and what is the purpose of Masterminds and Peer-to-Peer Groups?
What is Talent Matters and how can business owners keep the talent they already have?
What are the 12 questions that employees want to be answered by their employers?
What's the importance of a mission statement for a company?
Why is it important to have a best friend at work?
What can companies do to foster good relationships with employees?
Why shouldn't businesses do reviews, and what should they do instead?
What can the Scaling UP! Nation take away from how SeaWorld trains their whales? 
How can business owners make sure that they have a culture their employees thrive on?
What's the most important thing a leader needs to do?
What was it like being a business owner in  1992 when Hurricane Andrew hit Florida? 
Bottom line: Tim Fulton tells us how to retain top talent today.
Timestamps: 
Learning from your mistakes[01:00]
Thinking On Water With James  [04:55]
Inspiring interview Tim Fulton, President of Small Business Matters, Vistage Chair Emeritus, and Executive Coach [06:14]
Closing thoughts on joining a Mastermind and how it helps you create your best self  [57:27] 
Upcoming Events for Water Treatment Professionals [1:06:00]
Thinking On Water With James: 
In this week's episode, we're thinking about mixing acid and water together.  If you get this wrong, it can be quite dangerous and destructive.  Should you mix acid in water or vice versa?  What happens when you mix acid and water together?  What's the worst that can occur if you get this wrong?  What concerns could you have with feeding acid to a cooling tower, upstream of an RO, or other applications?  Seriously, take this week and think about the proper way of mixing acid and water together and how acid should be fed in various applications.  Your safety and that of those around you may depend upon it. 
Quotes:
"Companies with strong purpose and strong mission outperform companies whose focus is on revenue and profit – every time." – Tim Fulton 
"Stop the madness. Performance reviews don't work. Instead, do performance previews where we talk about the future." – Tim Fulton 
"So much about leadership is not having all the answers, but asking the right questions." – Tim Fulton 
"As leaders, we need to celebrate success and under-criticize failure." – Tim Fulton 
"I've learned that people will forget what you said, people will forget what you did, but people will never forget how you made them feel." – Maya Angelou
Connect with Tim Fulton: 
LinkedIn: in/timcfulton  
Twitter: @tf_sbm
Website: smallbusinessmattersonline.com 
Small Business Matters Bootcamp:  smallbusinessmattersonline.com/small-business-boot-camp
Links Mentioned: 
The University of Georgia: Small Business Development Center
092 The One About My TED Talk Experience
114 The One Where We Talk Masterminds
Small Business Matters Conference
Association of Water Technologies' Trainings and Seminars
Events: 
Check out our Scaling UP! H2O Events Calendar where we've listed every event Water Treaters should be aware of by clicking HERE  or using the dropdown menu. 
Books Mentioned: 
First, Break All the Rules: What the World's Greatest Managers Do Differently by Marcus Buckingham et. al
Start with Why: How Great Leaders Inspire Everyone to Take Action by Simon Sinek
Good To Great by Jim Collins