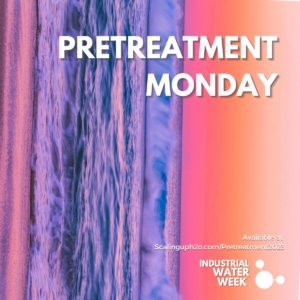 Welcome to the Scaling UP! H2O podcast, your go-to source for all things industrial water treatment. I'm your host, Trace Blackmore, and I'm thrilled to kick off this year's Industrial Water Week 2023 with a bang! This year marks our 6th year celebrating our industry's favorite holiday, and we're making it extra special by bringing you a brand new episode every single day this week.
We're raising the bar of the water treatment industry on this Pretreatment Monday with past guest, Wes Bryne, the esteemed author of "Reverse Osmosis."
As Wes shares, "The particular Pretreatment, of course, will have a lot to do with the quality of the incoming water and how bad it is for that RO system if we had to put it in the RO system." The importance of proper Pretreatment cannot be understated, and Wes provides invaluable insights into its impact on system efficiency and longevity.
But that's not all! We've got an exclusive Detective H2O story titled The Case of Normalization written and presented by industry favorite, James McDonald. In the entertaining and educational story, James reminds us that, "Reverse Osmosis systems are a  great technology, they can save a ton of money in boiler fuel costs and water costs."
At Scaling UP! H2O, our mission goes beyond merely expanding your knowledge; we're dedicated to kindling enthusiasm and inquisitiveness about the diverse careers and professional possibilities within industrial water treatment. As we mark Pretreatment Monday, we invite you, our listeners, to unite with us in amplifying awareness about this amazing industry. Whether you're considering a fresh career path or you've recently donned the graduation cap, the realm of industrial water promises boundless avenues for professional advancement.
And here's a challenge for all you wonderful listeners: Take a moment today to reflect on your career journey and send a heartfelt thank-you card to the people who helped you get to where you are today. Because just like the world of industrial water, gratitude flows in all directions.
Join us in celebrating Industrial Water Week 2023, and get ready for an enriching week ahead. 
Your roadside friend as you drive from client to client,
-Trace Blackmore, CWT
Timestamps
00:01- Trace Blackmore welcomes you to Industrial Water Week's Pretreatment Monday
07:30 – Clip with Wes Bryne from Episode 35 about Pretreatment  
11:15 – Detective H2O in The Case of Normalization 
Connect with Scaling UP! H2O
Email Producer: corrine@blackmore-enterprises.com
Submit a show idea: Submit a Show Idea
LinkedIn: in/traceblackmore/
YouTube: @ScalingUpH2O
Links Mentioned
Free Industrial Water Week Resources
317 Cracking the Code of the Workforce Crisis: Understanding the Demographic Drought with Ron Hetrick 
300 Building the Best Multigenerational Workforce, Part 1 with Chris Yee
301 Building the Best Multigenerational Workforce, Part 2 with Chris Yee
035 The One with RO Expert, Wes Byrne
Reverse Osmosis: A Practical Guide for Industrial Users by Wes Bryne