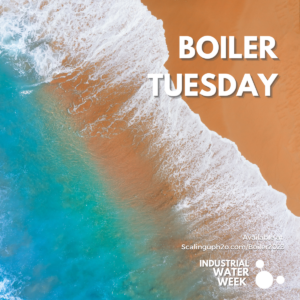 Welcome to another exciting episode of Scaling UP! H2O, the podcast that's taking you through Industrial Water Week 2023! I'm your host, Trace Blackmore, and today, we're diving deep into the world of boilers on this special "Boiler Tuesday" episode.
In honor of Boiler Tuesday, we're revisiting Episode 318, where Ritchie Ware and Steven Taylor from WARE shared their insights on the power of steam and its immense impact on our daily lives. These guys make boilers fun, and their materials are fantastic for training, even for those who aren't technically inclined.
Steam is everywhere, and most people don't realize just how crucial it is. It's in your carpet, your drywall, your appliances, your food, and so much more. If we removed steam from the equation, our lives would look drastically different. We need more people to understand the significance of what we do in this industry.
This is a rewarding field, but it's not without its challenges. However, it's a trade that makes a real difference, and the heart of many industrial operations is the boiler. When that boiler goes down, no matter how great your team is or how fantastic your products are, everything grinds to a halt. It's a reminder of the vital role we play in the world.
So, let's make it our mission this week and beyond to invite more people into this incredible industry. Let's keep celebrating, learning, and growing together. And don't forget to share your boiler photos with the hashtag #IWWeek23.
Join us tomorrow for another episode dedicated to "Cooling Wednesday." Until then, keep scaling UP! in the best industry in the world – Industrial Water Treatment!
Your roadside friend as you drive from client to client,
-Trace Blackmore, CWT
Timestamps
0:01- Trace Blackmore welcomes you to Industrial Water Week's Boiler Tuesday
6:19 – Ritchie Ware and Steven Taylor of WARE on the power of steam
12:45 – Detective H2O in The Case of Standing
Quotes
"Stack temperature is the quickest way to find out if we ever have a heat conversion problem." – Steven Taylor
"I wish everybody understood how important steam is." – Ritchie Ware
Connect with Scaling UP! H2O
Email Producer: corrine@blackmore-enterprises.com
Submit a show idea: Submit a Show Idea
LinkedIn: in/traceblackmore/
YouTube: @ScalingUpH2O
Links Mentioned
Free Industrial Water Week Resources
Episode 318 Boilers: Handling Pressure Like the Pros
WARE's website www.wareinc.com