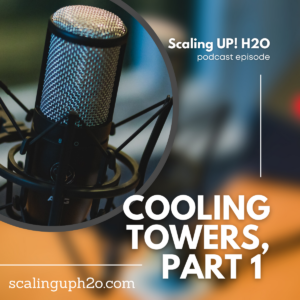 Welcome back to a special re-airing of the most popular episode from 2022 on Scaling UP! H2O – the Pinks and Blues series titled "Cooling Towers, Part 1." I'm your host, Trace Blackmore, CWT, and we're taking a deep dive into the world of Cooling Towers.
For our newer listeners, Pinks and Blues episodes are our team's favorite way of answering our listener's burning questions, and this time, we're tackling a question that's crucial to anyone involved in water treatment: "What are the dos and don'ts of cleaning a Cooling Tower?"
But before we can uncover those important dos and don'ts, we need to truly understand what a Cooling Tower is and why its maintenance is so vital. Cooling Towers are the unsung heroes working behind the scenes, responsible for the efficient exchange of heat in various industrial processes.
This episode marks the beginning of a favored two-part series where we explore the ins and outs of Cooling Towers. So fasten your seatbelts, because we're about to embark on a knowledge-packed journey that will transform the way you think about these vital components of heat exchange.
Why should you care about keeping your Cooling Towers in top shape? Well, I'll tell you why proactive maintenance matters and how neglecting these systems can lead to decreased efficiency, higher energy costs, and even safety concerns.
As I always say, a Cooling Tower that's not operating at its best is a missed opportunity for optimal heat transfer. Throughout this episode, we'll be unraveling the intricacies of Cooling Tower performance and the fine balance between chemical treatments and mechanical processes. Remember, it's all about achieving that perfect "quadrinity" for the best results.
Your roadside friend on the journey to better water treatment,
Trace
Timestamps
1:00 – Trace Blackmore welcomes you to the most popular episode from 2022
6:30 – Upcoming Events for Water Treatment Professionals 
12:00 – Answering Listener Questions 
What do we need to know about cleaning a Cooling Tower? 

What is a Cooling Tower and how does it work?

What does it mean when "a Cooling Tower is not running efficiently?"

How do you stay safe when inspecting a Cooling Tower? 

What is the ripple effect when a Cooling Tower isn't working properly? 

How often should we clean a Cooling Tower? 

What is Cooling Tower Quadrinity? 

Why a filter is important 
38:00 – What do you want to hear about on future podcast episodes?
41:00 – Periodic Water Table With James McDonald
Quotes:
"Less surface area for the water to come in contact with the air means that the Cooling Tower is less efficient as a heat exchanger." – Trace Blackmore
"A Cooling Tower is a heat transfer device because it allows air to interface with water, and that interface is the heat exchange." – Trace Blackmore
"If there is dirt and debris in that tower somewhere, it's not allowing us to be efficient." – Trace Blackmore
"A non-efficient heat transfer device is not doing a very good job at transferring heat." – Trace Blackmore
"A successful Legionella program is not that you have no Legionella in the system ever, it's that you know how much Legionella is in the system." – Trace Blackmore
Connect with Scaling UP! H2O
Email Producer: corrine@blackmore-enterprises.com
Submit a show idea: Submit a Show Idea
LinkedIn: in/traceblackmore/
YouTube: @ScalingUpH2O
Links Mentioned
004 It's Not Easy Being Green! (the episode with Charlie Cichetti)
The Tim Ferriss Show (Podcast)
Episode 240 Pinks and Blues: Cooling Towers, Part 2
Scaling UP! H2O Academy video courses
AWT (Association of Water Technologies)
2023 Events for Water Professionals
Check out our Scaling UP! H2O Events Calendar where we've listed every event Water Treaters should be aware of by clicking HERE or using the dropdown menu.
Periodic Water Table With James McDonald
I tried to think of a bromide to say with this one, but my brain had no reaction.  How soluble is sodium bromide?  Is sodium bromide itself a biocide?  If not, how is it used for microbiological control?  When mixing sodium hypochlorite and sodium bromide, what is the theoretical mixture ratio to achieve complete conversion?  Should an excess of sodium hypochlorite be fed to ensure complete conversion?  What if you want a mixture both hypochlorous acid and hypobromous acid?  What ratios of sodium hypochlorite and sodium bromide should you feed?  What challenges could one face when using sodium bromide for microbiological control?