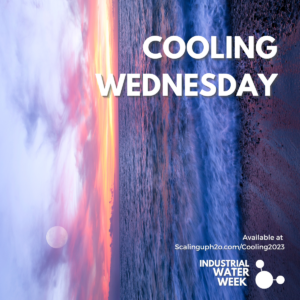 Welcome back to Scaling UP! H2O, the podcast for water treaters, by water treaters, and happy Industrial Water Week's Cooling Wednesday, Scaling UP! Nation! Today, we're delving into a topic that's crucial for our industry: effective communication and understanding the cooling equipment we're treating.
In this episode, we revisit a fantastic moment from the podcast vault, featuring Chris Nagle. Chris, a Legionella Bacteria and Cooling Tower Expert at EVAPCO, joined us in 2021 for an episode titled "The One About Cooling Towers and Legionella Bacteria." Thanks to Chris and the EVAPCO team, water treaters worldwide have gained invaluable insights into our craft.
During this enlightening conversation, Chris and I explore the idea that not all equipment is cut from the same cloth. From adiabatic systems to evaporative condensers, each type boasts unique characteristics that require tailored water treatment approaches. Chris eloquently sums it up with, "When we stop thinking of everything as a cooling tower, we can fine-tune our programs and think in terms of how the water is actually being used in that process."
Discover the transformative power of using precise language when communicating with equipment manufacturers, and witness how it can elevate your water treatment prowess. Prepare to scale up your knowledge and sharpen your approach to water treatment equipment.
Join us in celebrating Industrial Water Week 2023 and gear up for a week filled with enrichment. Don't miss this insightful episode that's bound to help you become a master of water treatment equipment. Remember, we're scaling up on knowledge so we don't scale up our systems!
Your roadside friend as you drive from client to client,
-Trace Blackmore, CWT
Timestamps
0:01- Trace Blackmore welcomes you to Industrial Water Week's Cooling Wednesday
4:30 – Chris Nagle of EVAPCO talking about what is and isn't a Cooling Tower
10:45 – Detective H2O in The Case of the Dye Job
Quotes
"When we stop thinking of everything as a cooling tower, we can fine-tune our programs." – Chris Nagle
"It's important for the water treatment professional to think about what is this equipment I'm actually treating, let's get the right name so that we can communicate effectively and get the right program." – Chris Nagle
Connect with Scaling UP! H2O
Email Producer: corrine@blackmore-enterprises.com
Submit a show idea: Submit a Show Idea
LinkedIn: in/traceblackmore/
YouTube: @ScalingUpH2O
Links Mentioned
Free Industrial Water Week Resources
Website with James McDonald's H2O Stories