116 Pinks and Blues: System Volume
Episode 116: Show Notes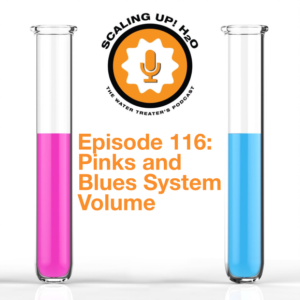 I am so grateful for the members of the Scaling UP! Nation! I have the best audience in all of podcasting. To get great content every week every episode, I beg the Nation! to help me by asking questions they would like for me to answer. The Nation! has responded to that call once again!  
Today, a friend of the show, Eric Russo, of episode 111, asks about the rules of thumb when it comes to determining volume in a closed-loop system. If you have ever heard me speak on this topic, you know I don't trust rules of thumb. But I do accept math.  
WARNING: This episode contains MATH. Today's episode is about how I use math to determine how much volume is in a closed-loop system. 
Below are the calculations I talk about on the show. 
Estimating System Volume: 
Πr2 x 7.48 x pipe' 
Π = 3.14

 

R = half the pipe diameter and then square that number (must be in feet)

 

Pipe = 7.48 the conversion to get feet of pipe into gallons

 
Titration Drop Manipulation: 
SDC / (NV / OV) = NDC 
SDC= Standard or 

Original

 drop count in ppm

 

NDC = New drop count in ppm

 

NV = New volume

 

OV = Original volume

 
Volume Calculation: 
(120,000 x NaNO2) / Δ x (conversion) = Gallons in the system 
NaNO2 = the lbs. Of sodium nitrite added to the system

 

Δ = the change in NaNO2 in the system from your 

addition

 

Conversion = if you are using a nitrite test (not a sodium nitrite test)

,

 you will need to account for the fact you added sodium nitrite and only tested for nitrite.  The conversion will be 1.5

 

120,000 the conversion/axiom that 1 pound of anything in 1,000 gallons of water will 

yield

 120 ppm

 
Nitrite test procedure courtesy of Aquaphoenix: https://www.aquaphoenixsci.com/resources/procedures/?fileid=7368 
Test Species Conversion: 
What we add / what we test = conversion factor 
Key Points From This Episode:
Rising Tide Mastermind 

[0:00:35] 

 

Journaling 

[0:04:24] 

 

Rules 

Of

 Thumb 

[0:08:38] 

 

Calculating 

The

 System Volume 

[0:10:06]  

 

Calculation 

For

 Pipe 

[0:12:32] 

 

Compounded Addition 

[0:15:45] 

 

Nitrite Test & Sodium Nitrite Test Procedure 

[

0

:23:11] 

 

Get A Copy Of 5 Minutes Journal 

[0:32:55] 

 

And A Lot More! 

 
Tweetables: 
"Setting goals is the first step into turning the invisible into the visible." @TonyRobbins  @traceblackmore #Masterminds #MastermindGroup #RisingTide #CWT #IWC #AWT #scalingupnation #scalinguppodcast #scalinguph2o #scalingupandbeyond #traceblackmore #systemvolume #PinksandBlues #TitrationDropManipulation #VolumeCalculation
"If you can figure out your losses and what was getting in your way, you can quickly turn those into wins." @traceblackmore #Masterminds #MastermindGroup #RisingTide #CWT #IWC #AWT #scalingupnation #scalinguppodcast #scalinguph2o #scalingupandbeyond #traceblackmore #systemvolume #PinksandBlues #TitrationDropManipulation #VolumeCalculation
Links Mentioned On This Episode:
103 The One About What a Water Treater Fears
Ep 22: The One with Tim Fulton
114 The One Where We Talk Masterminds 
Robbins Research International, Inc. (Tony Robbins)
111 The One with Eric Russo, CWT  
Books mentioned:  
Think And Grow Rich – Napoleon Hill