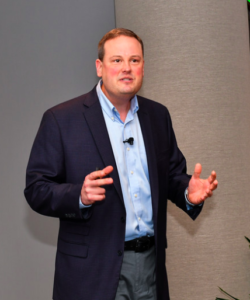 Who would think that all of our meetings in the 2nd quarter of 2020 would be over video conference? Not me. I would have bought a hefty amount a Zoom stock if I did. Which, by the way, was trading for about $70 back in February and will now cost you $210. Hindsight, right! For those of us that didn't make it rich buying Zoom stock, you probably use Zoom's product or something like it. Have you ever wondered what the best way to have a video conference is?  
As a Mastermind Group, The Rising Tide Mastermind meets weekly over Zoom. I have used it for years before the onsite of stay-at-home orders, but I could not remember ever seeing anything on video call etiquette. A member of our Mastermind asked if I could have a speaker come talk to us on this topic. The only issue was, I couldn't find one. No one wanted to disappoint, so I decided to book myself.  
Please join me for tips, tricks, and yes, etiquette for having your best virtual meeting ever.  
 Trace's top tips for virtual meetings:  
Find a room that is comfortable, private, with good lighting and reliable wi-fi.

 

Let your family members know that you are going to be on a video call.

 

Find the platform that works best for you. 

 

When possible, use your computer, not your phone. 

 

Don't sit in front of a window. 

 

Think about what is in the background of your video. 

 

Prepare for the meeting by reviewing agendas, preparing to screen share, etc. 

 

Test the software ahead of time. 

 

Dress professionally. 

 

Turn your phone notifications off.  

 

When you are not the one speaking, mute yourself. 

 

Use your camera and look directly into the camera. 

 

Think about what your nonverbal cues are saying. 

 

If using Zoom, use the gallery view. 

 

Be prepared for screen sharing. 

 

If you are hosting, offer lots of breaks.  

 

If you are hosting, send out an agenda. 

 

If you are hosting, make sure that everybody is being heard. 

 

If you are hosting, always ask for feedback. 

 

If possible, don't eat during a video call. 

 

Stay focused on the call at hand. 

 

Take private conversations offline.

 

If hosting, be the last to leave the video conference. 

 

BONUS TIP: Try 

right clicking

 your video to display the menu, then choose Hide Myself. You no longer see the video of yourself, even though others in the meeting can see you. This helps you feel like you are in person and keeps you from being distracted by your video.

 
Timestamps:
Think about the right room to take your virtual meeting in [07:36]
What can you do to minimize interruptions? [09:25]
Trace's preferred virtual meeting service [09:58]
How to prepare for the meeting [14:29]  
Take advantage of the video feature [23:40]
Screen sharing [29:40]
Hosting virtual meetings [35:45]
How to stay focused during a video call [43:30]
The difference between video meetings and webinars [51:15]
Quotes:
"When you are in a meeting, be present in that meeting."  
"When we communicate, 60% or more is through nonverbal cues…make sure your cameras are on."  
"If you wouldn't do it in a conference room, you shouldn't do it in a video room."  
"Conference calls are more concentrated than regular in-person calls."  
"The host's job is to manage the participants."  
"Don't be afraid to tackle big issues in a video conference."  
Links Mentioned: