My guest today is Dr. Michael Reinert, an Enterprise Architecture expert and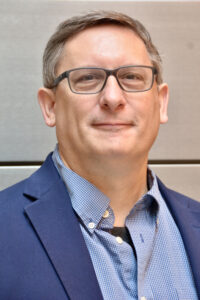 the owner of Reinert Consulting which is the company I use for my Information Technology needs.  
Now you may be asking yourself, "What is Enterprise Architecture and why would my company even need to hire someone to manage my information?" We are going to answer those questions and so many more on today's episode. 
 As a Navy veteran who operated nuclear power plants, a Ph.D. in information sciences and technology, and an entrepreneur, Dr. Michael Reinert has a refreshingly unique perspective on information and technology. He uses the language of business rather than technical jargon to communicate with his clients and brings alignment of business needs with information and technology needs. An entrepreneur, enterprise architect, speaker, and teacher, Michael helps companies remove doubt about decision making and protecting their important information assets. 
Confession: I'm a great water treater, but until I met Michael, I didn't know HOW or WHY I needed to protect my company's digital information.  
Bottom line: 
 Today's episode is going to help you understand the immense value of your company's information, and Dr. Michael Reinert will give you a strategy to protect it. 
Your roadside friend, as you travel from client to client.  
-Trace
Timestamps:  
Our 200th episode is coming up please let us know what the show has meant to you and your show ideas [2:50] 
James' Challenge [4:00] "Use your sense of touch to determine which softener vessel is online, if the chemical is pulsing through feed tubing, etc., and report back." 
Introducing Dr. Michael Reinert [7:00]  
it vs IT [15:49] 
Enterprise Architecture [19:08] 
How should a water treatment company manage its Information Technology? [26:05] 
Cybersecurity and the Dark Web, what you need to know about risk mitigation [33:58] 
What bottom-line things do the listeners need to know about Information Technology and Cybersecurity? [49:28] 
Lightning Round Questions [53:30] 
Quotes: 
"I.T., make those two letters small, and it's just the basic word "it", but if you capitalize those letters you are talking about a global phenomenon that has changed the whole world." – Dr. Michael Reinert 
"IT also represents one of the most powerful forces on the planet. computer hardware and software used to manage and communicate information." – Dr. Michael Reinert 
"IT, it's about information and it's about technology, we need to take both parts seriously and not just talk about technology." – Dr. Michael Reinert 
"Enterprise Architecture. It's a business strategy with information strategy and technology strategy." – Dr. Michael Reinert 
As an Enterprise Architect, I capture information in drawings to make maps and mental models of the work my clients are doing." – Dr. Michael Reinert 
"Rethink what your company's information is, and the value it has." – Dr. Michael Reinert 
"Think of your information as an asset at your company." – Dr. Michael Reinert 
"We need to view our company's information as an asset." – Dr. Michael Reinert 
"Cybercriminals are attacking your technology to get to your information, ultimately that's where your value lies." – Dr. Michael Reinert 
"Cybersecurity is risk management. You need to manage it just like any other business risk." – Dr. Michael Reinert 
"In the old days we made firewalls, then better firewalls, and antivirus software, but over time we keep coming back to the same answer to solve our security issues- we need to teach people ." – Dr. Michael Reinert 
"Build a company culture around security awareness." – Dr. Michael Reinert 
"The Dark Web is a dark street or the wild west of the internet, it's a lawless part of the internet where lots of criminal activity happens." – Dr. Michael Reinert 
"If you use the same password or a slight variation, cybercriminals can easily access your information." – Dr. Michael Reinert 
"Once these cybersecurity hacks occur, it's easy for cybercriminals to access people's information and impersonate them online." – Dr. Michael Reinert 
Links Mentioned: 
Get a FREE Cybersecurity assessment from Michael Reinert's company 
194 The One Where We Learn About Productivity Tools (with Danny Bauer)
165 The One All About Cyber Security (with Keyaan Williams)
193 Pinks and Blues Questions From The Nation! ABC (Always Be Closing)
AWT (Association of Water Technologies) 
Connect with Michael Reinert: 
Website: reinertconsulting.com
Email: mike@ReinertConsulting.com 
Phone: (814) 441 6100 
LinkedIn: in/MichaelReinert 
Books Mentioned: 
The Speed of Trust by Stephen M.R. Covey and Rebecca Merrill  
The 7 Habits of Highly Effective People by Stephen R. Covey 
Podcast Guest Profits by Thomas M. Schwab 
Start With Why by Simon Sinek