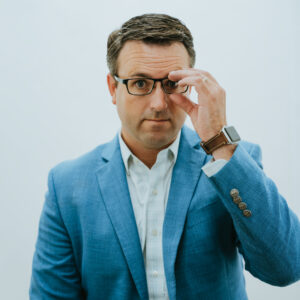 Empower your customers to achieve unprecedented success in water management by adopting a comprehensive approach that goes beyond boilers and chillers. Embrace the holistic potential of water management, including irrigation systems, and witness remarkable water savings.
Today, we have the privilege of hosting the brilliant Andy Humphrey, a seasoned Irrigation Technology Consultant from Sprinkler Supply Store. Join us as we explore the future of irrigation, delve into the intrinsic value of water, discuss e-commerce in the B2B and D2C sectors, unravel the process of creating a water budget, and examine the latest advancements in irrigation technology.
Furthermore, we will examine the advantages and disadvantages of reusing water runoff, the significance of enhanced sensors and data analytics, the influence of Andy's own podcast, the importance of establishing a positive and educational online presence, and gain insights from his experience as a guest on Shark Tank.
Bottom line:  when it comes to water savings for our customers, it is crucial to emphasize that it encompasses more than just their boilers and chillers. We must encourage them to think innovatively and expand their focus on every aspect of water usage. By embracing irrigation technology, we can collectively contribute to the conservation of billions of gallons of fresh water daily. Together, let's make waves and pave the way for a sustainable future.
Timestamps
Trace Blackmore galvanizes you to be the very best heat transfer efficiency manager [1:00]
Upcoming Events for Water Treatment Professionals [8:30]
Interview with Andy Humphrey, Irrigation Technology Consultant [14:00] 
Periodic Water Table With James McDonald [01:03:05]
Quotes
"We undervalue water. There are low-hanging opportunities to reduce water usage that doesn't take a lot of technology, yet we still let it happen." – Andy Humphrey
"I saw how we were using water in the irrigation industry and decided to go headfirst into the irrigation industry with technology both in the hardware and software side." – Andy Humphrey
"Rain: money falling from the sky. When water is falling you should not be irrigating." – Andy Humphrey
"There's only so much water the soil can use." – Andy Humphrey
"We need to make money AND we need to be able to have margin in order to make customers happy." – Andy Humphrey
"You get better the more you do it. You just have to start and try something new." – Andy Humphrey
"We are heat transfer efficiency managers, everything we do is about heat transfer." – Trace Blackmore 
"Talk about your value with your clients. Show them how much money your work saves them." – Trace Blackmore 
Connect with Andy Humphrey
Phone: 208-908-3229 
Email: andyhum@gmail.com  
Website: SprinklerSupplyStore.com
Podcast: The Sprinkler Nerd Show 
Sharktank: https://www.sharktankblog.com/business/ecomowers/
LinkedIn: in/andyhum/
YouTube: ​​@Andy_Humphrey
Read or Download Andy Humprey's Press Release HERE
2023 Events for Water Professionals
Check out our Scaling UP! H2O Events Calendar where we've listed every event Water Treaters should be aware of by clicking HERE or using the dropdown menu.
Periodic Water Table With James McDonald
Some of you may be thinking I made this one up, but no, I haven't. Fenton's Reagent.  What is it? What chemicals are involved in the Fenton reaction? What are the chemical reactions happening? When and where would one use Fenton's Reagent? What dosage ratios between components are recommended? Do low and high pH have an impact upon the reaction? Conversely, will Fenton's Reagent have an impact upon water pH? What is a hydroxyl radical and how is that different from the hydroxide ion?