043 The One with the WaterCycle Guy
Episode 43: Show Notes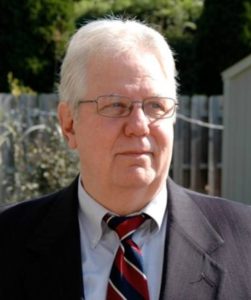 Did you know we all have something in common?  Well, I'm willing to bet that we have many things in common but the one I want to focus in on is we all start something new as someone new to starting that something. I know that is not very profound, but it's true. In my career I have been concerned about how someone would view my presentation or recommendation because I was: too new, too young, too…
I absolutely love hearing from the Scaling UP! Nation about how this show has inspired people to: try something new, change up the status quo and ask why.  When we know why something does what it does, we change our role from a task doing to a tool master. When we have command over the tools that we use, we become exceptional water treaters.
If you have listened to Scaling UP! before, you know I believe it takes the gift of others investing in you that will lead you to a successful future.
Today I interview someone who has really shape the water treatment industry. Most likely, he has had a hand in all of the products you use. If you use a controller, he has had a hand in creating some of the algorithms the controller uses. He has authored many papers and spoken at many venues. But here's the thing, when he started he was: too new, too young, too… After knowing all these accolades, you are ready to listen to him, right?
My guest today is Rob Ferguson, of French Creek Software. Rob founded French Creek Software where he developed several programs. The one you are most likely familiar with is WaterCyle. WaterCycle is a modeling software that allows you to theoretically test your product in a simulated environment. Rob was new when he started as water treater. He was new when he started WaterCylce. If there is one thing I hope you get out of this episode is that we all start at the same place and we never get where we are going alone. Rob explains how many have helped him become what he is today.
Join me as I interview Rob Ferguson.
More about Rob Ferguson?
Rob Ferguson began modeling corrosion, mineral scale solubility, scale formation, and  scale and corrosion control in 1974 and continues to be a major contributor to the practical application of physical chemistry to identifying and solving industrial water treatment challenges. Major career accomplishments include:
developing the first successful ultra-low dosage treatment approaches for scale control in high volume utility once through cooling systems (1974).
designing and implementing the first real-time microprocessor controlled scale inhibitor controller (1984).
making advanced physical chemistry and laboratory study results to water treatment professionals through software available in a user friendly, visual format.
Developing a user friendly system for evaluating scale formation and control under extreme conditions.
Rob wrote much of the software in use today for cooling water, reverse osmosis, and oil field chemistry. He co-founded French Creek Software in 1989 and has presented and published papers at AWT, NACE, the IWC, CTI, ACS, AWWA, AMTA and in many trade journals. His motto is "Physical Chemistry for Fun and Profit." 
He opened a scale and corrosion laboratory in 2014 to develop and refine inhibitor performance data and other work not being published by the major service companies and inhibitor synthesizers.
Rob began advocating for change in the approach to evaluating and resolving lead and copper contamination of potable water in 1995 with the release of a municipal water modelling systems, though technology publications, and through editorials such as the UltraPure Water guest editorial "Paradigm Change Could Drive Pb and Cu Crisis Resolution."
Rob was educated at the US Naval Academy and University of Minnesota and received a BS in Biochemistry and Microbiology in 1971.  Rob worked in research, marketing, and software development for several major water treatment service companies prior to cofounding French Creek Software in 1989,
Rob received the Association of Water Technologies Ray Baum Water Technologist of the Year award in 2017 for technology contributions to the industry and the association. French Creek was proud to be honored as the AWT Supplier of the Year in 2011.
Key Points From This Episode:
How to elevate tasks [0:01:20]
Advise on learning about the reagents [0:02:18]
What is WaterCycle? [0:05:20] 
Back story of Rob Ferguson [0:08:10] 
Test Markets [0:15:02] 
Water analysis [0:18:05]
What's going to interfere with my inhibitors? [0:20:15] 
WaterCycle Treatments [0:21:45]
Evaluating the system [0:22:23]
Applications Research [0:28:01]
Corrosion Rates [0:30:03]
Holistic Treatment Approach [0:33:15]
Troubleshooting formulations [0:39:20]
What happens when you blend two (2) inhibitors together? [0:39:40]
Safety Factor [0:41:15]
What water treaters should stop doing? [0:42:05]

And much more! 
Tweetables:
"People can teach us the WHAT TO DO, they can teach us the HOW TO DO IT and we can learn those things. But the magic happens when we connect the WHY to the HOW and the WHAT." @traceblackmore #scalinguph2o #scalingup #watercycle #frenchcreeksoftware #scalinguppodcast #watertreatment #traceblackmore
"You are inspired to do things, to answer questions about WHY! And that is how we make ourselves great at anything that we do." @traceblackmore #scalinguph2o #scalingup #watercycle #frenchcreeksoftware #scalinguppodcast #watertreatment #traceblackmore
"Don't think that you can't locate what is done in the past instead of reinventing the wheel. You can refine that wheel but there's no need to reinvent a lot of it." @traceblackmore #scalinguph2o #scalingup #watercycle #frenchcreeksoftware #scalinguppodcast #watertreatment #traceblackmore
"Quick Advise from Rob: "Trust yourself, trust your instincts. Make us many contacts within the industry as you can, rely on friends and work with others!" #robferguson @traceblackmore #scalinguph2o #scalingup #watercycle #frenchcreeksoftware #scalinguppodcast #watertreatment #traceblackmore
"No matter how hard you start up a business, you probably did not do it all alone." #robferguson #scalinguph2o #scalingup #watercycle #frenchcreeksoftware #scalinguppodcast #watertreatment #traceblackmore
"Looking outside of my area of expertise and see if there's something else that would help." #robferguson #scalinguph2o #scalingup #watercycle #frenchcreeksoftware #scalinguppodcast #watertreatment #traceblackmore
"Take away from https://scalinguph2o.com/43 : It's not about how much grey hair that you have, it's the fact that you want to get something done." #robferguson #scalinguph2o #scalingup #watercycle #frenchcreeksoftware #scalinguppodcast #watertreatment #traceblackmore
Links Mentioned in Today's Episode:
Robert Ferguson Website (French Creek Software, Inc.): http://www.frenchcreeksoftware.com/watercycle/ 
Robert Ferguson on LinkedIn: https://www.linkedin.com/in/robert-ferguson-1607a69/
Robert Ferguson on Facebook: https://www.facebook.com/French-Creek-Software-508227242598833/
John Zibrita Show: https://scalinguph2o.com/7
Audible: https://scalinguph2o.com/audible
The Foundation series by Isaac Asimov: https://scalinguph2o.com/43book1
Aquatic Chemistry by Stumm & Morgan: https://scalinguph2o.com/43book2