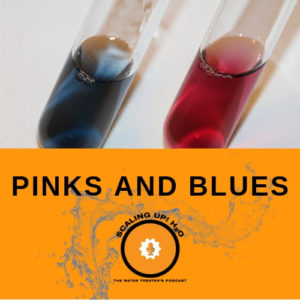 I get asked (a lot) to explain water treatment in its most foundation way. If you listen to the show, you know I think us water treaters tend to overcomplicate how we explain things (especially to customers.)
In today's episode, I do my best to explain what we do as water treaters in a way everyone can understand.
088 Pinks and Blues: Heat Transfer
Episode 88: Show Notes
Key Points From This Episode:
Heat Transfer Efficiency Managers (reversed) [0:02:00]
Equipment Treaters [0:01:35]
Heat Exchange [0:02:58]
Heat Transfer [0:03:42]
Water Treater Job [0:05:55]
Universal Solvent [0:09:37]
Microbial [0:11:24]
Calcium Carbonate Scale [0:14:28]
Chillers and more [0:16:53]
AWT Annual Convention and Expo [0:26:57]
And a lot more!
Tweetables:
"Our job is to make sure that the equipment that we are treating is working as efficiently as possible." @traceblackmore #scalinguph2o #scalingup #scalinguppodcast #scalingupnation #pinksandbluesheattransfer #heattransfer #pinksandblues
"Water treaters have a prospective that other vendors don't!"  @traceblackmore #scalinguph2o #scalingup #scalinguppodcast #scalingupnation #pinksandbluesheattransfer #heattransfer #pinksandblues
"When you come back to your territory you will be able to set it on fire because you now have a new idea that you didn't have before." @traceblackmore #scalinguph2o #scalingup #scalinguppodcast #scalingupnation #pinksandbluesheattransfer #heattransfer #pinksandblues
"It all starts with meeting people! It all starts with you wanting to improve the industry that you are in." @traceblackmore #scalinguph2o #scalingup #scalinguppodcast #scalingupnation #pinksandbluesheattransfer #heattransfer #pinksandblues
Links mentioned
EP10: The One with Jim Lukanich