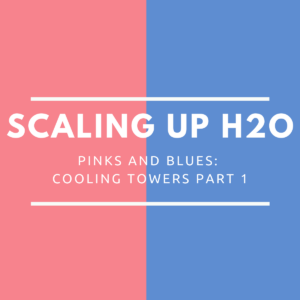 Nation, welcome to 2022's very first Pinks and Blues episode. For all of our new listeners, at least once a month, the Scaling UP! H2O podcast answers YOUR questions, and we call these episodes "Pinks and Blues". 
In today's Pinks and Blues, I start answering a very interesting question from one of our listeners: "What are the dos and don't of cleaning a Cooling Tower?". Before I can answer that question, it is important to know what a Cooling Tower truly is, and why it is important that we clean it. 
This is the first episode of the two-part series about Cooling Towers, so buckle your seatbelts because it's going to be a great episode.
Bottom line: WHY we should clean our Cooling Towers proactively.
Your roadside friend, as you travel from client to client. 
-Trace 
Timestamps: 
Completing your goals this year [00:01]
If you don't have a standing desk, you don't know what you are missing [02:47]
Upcoming Events [04:46]
What do we need to know about cleaning a Cooling Tower? [09:50]
A Cooling Tower, explained [11:43]
What does it mean when "A Cooling Tower is not running efficiently?" [18:51]
How to stay safe when inspecting a Cooling Tower  [20:58]
What is the ripple effect when a Cooling Tower isn't working properly? [22:48]
How often should we clean a Cooling Tower? [24:17]
The "Quadrinity" of water treatment: the four areas water treaters deal with to have a complete water treatment program [26:30]
Why a filter is important [29:00]
Thinking On Water With James [35:47]
Thinking On Water With James: Interferences in your water analysis tests
In this week's episode, we're thinking about testing interferences. What are the interferences in your water analysis tests you run each and every day? How do you know your test results are not artificially high or low due to an interference? Do you know how to recognize an interference? Is iron an interference? High alkalinity? pH? Chlorine or other oxidizers? Is molybdenum an interference for iron testing in a closed-loop? Read your test procedures, ask your technical support department, and search online. Take this week to think about and research test interferences and which ones may impact you the most.
Quotes:
"Scheduling (how often a Cooling Tower needs to get cleaned) deals with a bunch of unknowns." – Trace Blackmore
"We normally find that towers are cleaned as a reactive approach that something's not working right instead of a proactive approach." – Trace Blackmore
"Remember: a Cooling Tower is all about exchanging heat."  – Trace Blackmore
"Less surface area for the water to come in contact with the air means that the Cooling Tower is less efficient as a heat exchanger." – Trace Blackmore
"More energy means more cost to run the Cooling Tower." – Trace Blackmore
"A Cooling Tower is a heat transfer device because it allows air to interface with water, and that interface is the heat exchange." – Trace Blackmore
"If there is dirt and debris in that tower somewhere, it's not allowing us to be efficient." – Trace Blackmore
"A non-efficient heat transfer device is not doing a very good job at transferring heat." – Trace Blackmore
"Mark Lewis said: the dirt that settles out at the bottom of the tower basin should never exceed one quarter inch." – Trace Blackmore
"There's only so much we, as water treaters, can do without our customers committing to all the things they have to do." – Trace Blackmore
"A successful Legionella program is not that you have no Legionella in the system ever, it's that you know how much Legionella is in the system." – Trace Blackmore
"A lot of times, we overclean to overcompensate for not having filtration in the system." – Trace Blackmore
"The 'quadrinity' is the balance of chemical and mechanical working together so we can get the optimal job done." – Trace Blackmore
Connect with Scaling UP H2O: 
Email: corrine@blackmore-enterprises.com (podcast producer)
Submit a show idea: Submit a Show Idea
Scaling UP! H2O on LinkedIn: company/scalinguph2o
Scaling UP! H2O on Facebook: @H2OScalingUP
Links Mentioned:
004 It's Not Easy Being Green! (the episode with Charlie Cichetti)
The Tim Ferriss Show (Podcast)
AWT (Association of Water Technologies)
2023 Events for Water Professionals
Check out our Scaling UP! H2O Events Calendar where we've listed every event Water Treaters should be aware of by clicking HERE or using the dropdown menu.