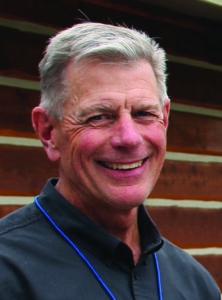 I'm very excited to introduce to the Scaling UP! Nation my lab partner in today's episode, Dr. Paul Sturman Ph.D., P.E.. When it comes to biofilm, I credit my lab partner today for most of the things I know about the subject. 
Paul Sturman, Ph.D., P.E. has been a Research Professor and the Industrial Coordinator at the Center for Biofilm Engineering (CBE) at Montana State University (MSU) since 2000. Dr. Sturman works closely with Industrial Associate companies to assist in the adoption of biofilm-related technologies. He also organizes biofilm research conferences, particularly the Montana Biofilm Meetings twice a year. 
Dr. Sturman received his Ph.D. in Environmental Engineering from Montana State University. He also has written more than 20 peer-reviewed publications and three book chapters and has made over 30 invited presentations at national and international conferences with a focus on biofilms and their control in industrial process streams and water systems.
Dr. Sturman has been studying biofilms for more than two decades, and his and CBE's contributions to what we know about biofilms have helped our industry immensely, from controlling biofilms in industrial and potable water systems, to developing standardized methods for biofilm analysis. It is an honor to have Dr. Paul Sturman talk about biofilms and how it affects our work as water treaters.
Bottom line: Dr. Paul Sturman is a professor and industrial microbiologist on a mission to solve industrial biofilm problems. 
Your roadside friend, as you travel from client to client. 
-Trace 
Timestamps: 
Thank you to everyone who participated in the Global 6K for Water [01:46]
Thinking On Water With James [04:38]
Introducing Biofilm Expert, Dr. Paul Sturman of the Center for Biofilm Engineering [07:00]
Defining Biofilm [08:40]
Making information about Biofilm more accessible [10:37]
What sets the graduate program of the Center for Biofilm Engineering apart from others? [12:27]
Biofilm and Cooling Towers [13:52]
Biofilm and Legionella [16:40]
Antimicrobials and Biocides [19:05]
Biofilm and Potable Water [23:41]
Developing standard methods for Biofilm testing [32:13]
Ways the Water Treatment Industry  can better partner with the Center for Biofilm Engineering [34:34]
Thinking On Water With James:
In this week's episode, we're thinking about how oxygen is mechanically removed in a deaerator? What properties of water and oxygen are involved? Which law predicts the solubility of oxygen? What does temperature have to do with it? Want about pressure? How does the deaerator design facilitate oxygen removal? What can happen or change about a deaerator to reduce oxygen removal efficiency? Why is venting important? Why is the mechanical removal of oxygen recommended before the second step of chemically scavenging oxygen? Take this week to think about deaerators and how they mechanically remove oxygen. 
Quotes:
"Biofilm is a community of microorganisms. This can be bacteria, algae, or fungi. Often, it's all three mixed together." – Dr. Paul Sturman
"Biofilm forms on every surface that is in contact with a fluid that has a water phase." – Dr. Paul Sturman
"Biofilm is the reason why rocks in a stream are slippery and slimy to the touch; biofilm is the cause of dental plaque, and biofilm forms even in purified water systems." – Dr. Paul Sturman
"A very important aspect of biofilm is its ability to protect microorganisms from antimicrobials, such as chlorine in drinking water or antibiotics in the human body." – Dr. Paul Sturman
"The Center for Biofilm Engineering at Montana State University (we) understand the biofilm problems that exist in industries, and we seek to solve them." – Dr. Paul Sturman
"The Center for Biofilm Engineering is able to solve problems from an engineering perspective that wouldn't be solvable strictly from a microbiology perspective or vice versa." – Dr. Paul Sturman
"In many ways, Cooling Systems was one of the original reasons that biofilms were studied." – Dr. Paul Sturman
"We seek to quantify the aspects of Biofilm growth and the efficacies of treatment." – Dr. Paul Sturman
"Eradication of Biofilm in cooling systems is not a realistic goal. A more realistic goal is control that involves continuous or periodic treatment ." – Dr. Paul Sturman
"The more complex the Biofilm is, the easier it is for Legionella to grow." – Dr. Paul Sturman
"Zero Legionella is not a realistic outcome. Minimizing Legionella certainly is a possibility and can be done. Minimizing the Biofilm, in general, tends to minimize Legionella." – Dr. Paul Sturman
"Montana State University's Center for Biofilm Engineering is probably the foremost institution in the world for developing Biofilm methods." – Dr. Paul Sturman
"With water conservation efforts and the mandating of low-flow fixtures the potential for Biofilm growth is really expanded in these systems."  – Dr. Paul Sturman
"It's important to have standard methods to study Biofilms so that labs across the world can give the same answers to the same questions." – Dr. Paul Sturman
Connect with Paul Sturman, Ph.D., P.E.:
Phone: 406-994-2102 
Email: paul_s@montana.edu 
Website: biofilm.montana.edu
LinkedIn:in/paul-sturman-8849738
school/centerforbiofilmengineering
school/montana-state-university
Links Mentioned:
World Vision Child Sponsorship
Center for Biofilm Engineering
Center for Biofilm Engineering Images & Multimedia
ASTM International, formerly known as the American Society for Testing and Materials
Events:
America Water Works Association's ACE22 on June 12 to 15, 2022 in San Antonio, Texas
2022 ASHRAE Annual Conference on June 25 to 29, 2022 in Toronto, Ontario