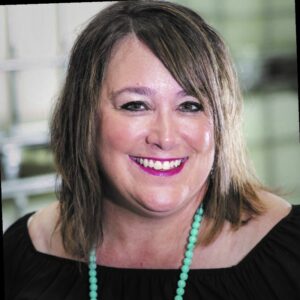 There are not a lot of women in the water treatment industry, but those who work in the industry found the challenges and opportunities it brings valuable. My guest in today's episode is a woman in water treatment who first found success in Operations but now has discovered her purpose in Sales Management: Tammy Faber.
Tammy Faber has been working in the water treatment industry for 13 years. She started her career in the paper industry 20 years ago as a Senior Buyer for power and utilities. She then worked for 12 years at Fort Bend Services, Inc. in Texas as the Administrative Services Manager and then Vice President of Operations in 2015. Tammy joined HOH Water Technology, Inc. and moved from Texas to Illinois in 2021. Switching from being the Vice President of Operations at her previous company, Tammy took on the challenge of being the Sales Manager at HOH. A role she never thought would be a fit for her, had it not for Reid Hutchison. 
At the age of 40, Tammy completed her bachelor's and master's of Business Administration at LeTourneau University. Outside of water treatment, Tammy loves to volunteer. She was named one of the "Top 30 Influential Women in Houston" in 2018 for her leadership and contributions to the community. She also volunteered for over 11 years with the Houston Livestock Show and Rodeo and served as the Vice-Chairman at the Houston Metro Go Texan Committee and the School Art Auction Committee. Currently, she serves on the Board of Directors at AWT (The Association Of Water Technologies), working with the board and the members to make the association thrive.
Bottom line: Tammy Faber shares her career journey from being an Operations Manager to becoming a Sales Manager.
Your roadside friend, as you travel from client to client. 
-Trace 
Timestamps: 
Finally! The Global 6K for Water is happening tomorrow [00:51]
Prove how excellent you are by getting your CWT [04:40]
Introducing Tammy Faber [08:23]
From Operations to Sales [09:59]
Realizing that Sales is the perfect fit [12:35]
The biggest change transitioning from Operations to Sales [15:41]
Forging a better salesperson and sales manager relationship [18:32]
Getting involved with AWT and the Rising Ride Mastermind [20:00]
Running for and being at the AWT Board [26:29]
Tammy's message to the women in the water treatment industry [33:49]
Lightning round questions [36:13]
Thinking On Water With James [43:06]
Thinking On Water With James: 
In this week's episode, we're thinking about what value you bring to your customer or facility? Are you just coming in, running your pinks and blues, writing a report, telling them what to do in your report, talking to no one, emailing the report, and leaving? Does your customer or facility find value in this? What other ways can you provide value? What problems can you solve? What control can you improve? What safety hazards can you minimize or eliminate? What value are you providing today to warrant working with you tomorrow? Take this week to think about your routine and what value you currently provide and what value you could provide in the future. 
Quotes:
"Education is something I'm passionate about. We should always be lifelong learners, which is one of the reasons why I'm constantly growing, changing, and evolving." – Tammy Faber
"One of the things that I love about EOS is that it is about having the right person in the right seat to do the right job." – Tammy Faber
"Water treatment is not just about selling chemicals, it's about the relationship you have with the customers." – Tammy Faber
"It takes all different perspectives to make the team work." – Tammy Faber
"When the Salesperson wins, the Sales Manager wins." – Tammy Faber
"The Rising Tide Mastermind drastically impacted my stress level and my ability to process problems." – Tammy Faber
"'Don't view yourself as just words on a paper on your resumé. Think about who you really are and what makes you great." – Tammy Faber
Connect with Tammy Faber:
Phone: (847) 358-7400
Email: tfaber@hohwatertechnology.com
Website: hohwatertechnology.com
LinkedIn: https://www.linkedin.com/in/tammy-faber-m-b-a-4680649/
https://www.linkedin.com/company/h-o-h-water-technology-inc-/ 
Links Mentioned:
236 The One Where We Talk About Waters Treaters Changing The World
Log in to AWT.org to learn more about Amplify AWT
AWT (Association of Water Technologies)
How to Apply or Renew Your Passport?
Events:
Join Team Scaling UP! Nation on World Vision's Global 6K for Water on May 21, 2022 (tomorrow), or make a donation HERE
2022 Annual Convention and Exposition – September 21 to 24 in Vancouver, Canada
Books Mentioned:
Traction: Get A Grip On Your Business by Gino Wickman
Revenue Growth Engine by Darrell Amy
Make Your Bed by William H. McRaven 
Greenlights by Matthew McConaughey