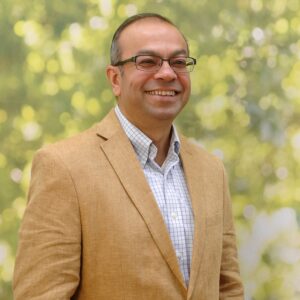 My guest in this episode knows what entrepreneurs and small business owners need to do to make their businesses profitable. He knows the ins and outs of making businesses stay afloat through economic challenges. He is none other than Rocky Lalvani, Chief Profitability Adviser for Business Owners and certified Profit First Professional.
Rocky ensures that entrepreneurs and business owners get paid, and making a business profitable is his top priority. He implements Mike Michalowicz's Profit First system, where they change the accounting formula of Sales – Expenses = Profit to Sales – Profit = Expenses which ensures that Profit comes first.
Rocky immigrated to the United States with his parents when he was two years old. It was his parents' second time starting over in life as they moved here to experience the American Dream. Rocky loves to share his journey and inspire others to achieve their financial dreams even faster.
Whether you are a Business Owner struggling to understand the health of your business or an employee wondering how you can make more money, this episode is for you.
Bottom line: Rocky Lalvani is going to tell us why and how to put Profit First.  
Your roadside friend, as you travel from client to client. 
-Trace 
Timestamps: 
Events in Water Treatment [01:33]
Self-improvement is a journey [05:30]
Introducing "Profit First" Guru, Rocky Lalvani [08:29]
Building wealth with Profit First [11:18]
Knowing and understanding your Financials  [14:26]
Creating the 5 Spending Buckets [20:10]
Using the Profit First System as an employee [28:06]
How to start building wealth [33:16]
Lightning round questions [38:48]
Thinking On Water With James [45:56]
Thinking On Water With James:
In this week's episode, we're thinking about the mass balance around a steam boiler system. By mass balance, I'm talking about how much water is going into a steam boiler system compared to how much is going out. The two should be equal. What should be included, though? It depends upon where you draw your circle around the system. A typical circle may only include makeup and condensate return going in with steam and blowdown going out. But what about the water demands of pretreatment equipment? Drawing the circle a little bigger may also include softener regeneration wastewater, reverse osmosis reject, raw makeup, lost condensate, steam leaks, leaking feedwater pumps, and more. Have you drawn a diagram of your steam boiler system with all the ins and outs shown? Take this week to think about the mass balance around your steam boiler system. 
Quotes:
"CPAs and accountants tell business owners that your Sales – Expenses = Profit. With Profit First, we do Sales – Profit = Expenses." – Rocky Lalvani
"Build a business the way you want to live your life." – Rocky Lalvani
"Where is your money going?" – Rocky Lalvani
"The 12-month Balance Sheet is where your money is. It's the true picture of the health of your company." – Rocky Lalvani
"You can be profitable and growing, and go out of business because of bad cash flow" – Rocky Lalvani
"Start small. Build a habit. Profit is a habit, not an event." – Rocky Lalvani
"Control your costs. Create efficiencies." – Rocky Lalvani
"If you are not keeping up with your cost of goods going up, you are in trouble. Be proactive, not reactive when it comes to adjusting pricing to supplies, shipping, and fuel surcharges." – Rocky Lalvani
"You don't need more resources, you need to be more resourceful." – Rocky Lalvani
"The number one reason Profit First fails is because the person didn't start doing it." – Rocky Lalvani
"The Entrepreneurial Operating System (EOS) is a wonderful way to systematize your business." – Rocky Lalvani
Connect with Rocky:
Phone: (717) 469-5449
Email: rocky@profitcomesfirst.com
Website: profitcomesfirst.com
LinkedIn: 
Podcasts: 
Links Mentioned:  
AWT (Association of Water Technologies)
Events:
PWX 2022: Ready and Resilient (Public Works Expo) – August 28 to 31 in Charlotte, North Carolina
AWT 2022 Business Owner's Meeting – September 20 in Vancouver, Canada 
International Desalination Association World Congress – October 9 to 13 in Sydney, Australia 
Books Mentioned:
Profit First: Transform Your Business from a Cash-Eating Monster to a Money-Making Machine by Mike Michalowicz 
Traction: Get a Grip on Your Business by Gino Wickman
The Christian Man: A Conversation about the 10 Issues Men Say Matter Most by Patrick Morley
The Ultimate Coach by Amy Hardison
Life Force: How New Breakthroughs in Precision Medicine Can Transform the Quality of Your Life & Those You Love by Tony Robbins