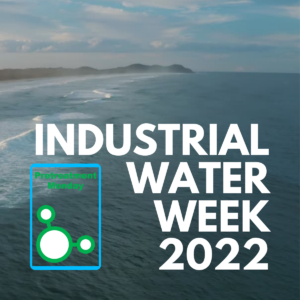 Finally, the time has come. We are kicking off Industrial Water Week, and this year, we are going to do something special. We are sharing Water Treater stories about things they wished they knew on their first day as a Water Treater. As is our tradition here at Scaling UP! H2O,  I've invited experts to talk about Pretreatment, Boilers, Cooling Towers, Wastewater, and Careers in Industrial Water Treatment this week. 
Starting this Industrial Water Week series is a chemical engineer and the technical manager at Syntec Corporation, Semra Gül. Semra is an active member of the Association of Water Technologies (AWT), serving as a member of the cooling committee and chair of the Pretreatment committee. 
What is Pretreatment? How does the AWT Pretreatment Committee contribute to the water industry? Why is Pretreatment important? What should you share with customers who are not interested in Pretreatment? What is the future of Pretreatment? Those are just some of the questions that Semra will answer in this episode. A native of Turkey, Semra will also talk about the differences in how her native country and the United States differ in handling Pretreatment. 
Join me, Trace Blackmore, the host of the Scaling UP! H2O Podcast and Semra Gül, as we celebrate Pretreatment Monday together.
Bottom line: Semra Gül will introduce Pretreatment to students and recent graduates considering careers in water treatment. 
Your roadside friend, as you travel from client to client. 
-Trace 
Timestamps: 
Kicking off the 5th Industrial Water Week [0:01]
Trace Blackmore welcomes you to Pretreatment Monday [05:35]
James McDonald's Pretreatment Water Story [10:16]
Pretreatment Monday interview with Semra Gül [14:24]
What I wish I knew on my first day as a water treater with Jeff Garratt [26:32]
Detective H2O: The Case of Normalization [31:15]
Quotes:
"Pretreatment will be more and more critical. Our water sources are not getting any better, it's becoming worse due to the increasing population, global warming, pollution, and other reasons caused by humans." – Semra Gül
Connect with Semra Gül :
Phone: 646-988-7081
Email: semra.gl@gmail.com 
Website: www.syntec.com 
LinkedIn: in/semra-gul-2a572541
Links Mentioned: 
001 A New Podcast for Water Treaters
Association of Water Technologies (AWT) Resources (Members-Only Access)