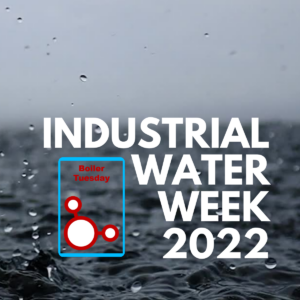 Welcome back to the Scaling UP! H2O Podcast. The podcast where we scale up our knowledge so we don't scale up our systems. In today's special Industrial Water Week episode, we are going to celebrate Boiler Tuesday! What better way to mark the second day of Industrial Water Week than by having a Boiler expert on the show? I am proud to welcome back Chuck Hamrick Jr. of Eagle Engineering Water Technology, on the podcast!
Prevention is always better than cure; which is why Chuck will tell the Scaling UP! Nation the Boiler problems we need to be aware of so that we can nip those problems in the bud before things get out of control.
If you are a new Water Treater, what should you look at when treating a Boiler? What is the difference between a Fire Tube Boiler and a Water Tube Boiler? How do you know how to identify a Steam Boiler from a Closed-Loop Boiler? Why do Boilers foam and how do we prevent foaming from happening? Chuck Hamrick will answer these questions and so many more in our educational discussion about Boilers. 
Join me, Trace Blackmore, the host of the Scaling UP! H2O Podcast and Chuck Hamrick Jr., as we celebrate Boiler Tuesday together.
Bottom line: Chuck Hamrick Jr. will introduce Boilers to students and recent graduates considering careers in water treatment.
Your roadside friend, as you travel from client to client. 
-Trace 
Timestamps:
Trace Blackmore welcomes you to Boiler Tuesday [00:01]
James McDonald's Boiler Water Story [04:56]
Using all your senses when diagnosing a problem with Trace Blackmore [08:23]
What I wish I knew on my first day as a water treater with Bruce Ketrick Sr. [11:41]
Boiler Tuesday Interview with Chuck Hamrick Jr. [17:32]
Detective H2O: The Case of Standing [32:57]
Quotes:
"When selling Water Treatment, especially Boilers, make sure you do everything thoroughly. Do a complete audit of the system before talking to your client." – Chuck Hamrick
Connect with Chuck Hamrick Jr.:
Phone:  419-345-4866
Email: chuck.hamrick@eaglewatertech.com
Website: eaglewatertech.com
LinkedIn: in/charles-d-hamrick-jr-cwt-b18062125/
Links Mentioned: 
Spirax Sarco's Steam Boilers – The Inside Story Playlist
271 The One With The Secrets to Buying A Company with Chuck Hamrick Jr.