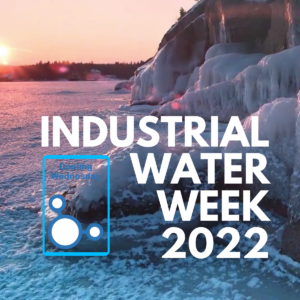 The time has come for us to celebrate Day 3 of Industrial Water Week with Cooling Wednesday. For today's special episode, I invited Cooling experts and the father-and-son duo from Guardian CSC, Bruce Ketrick Sr., and Bruce Ketrick Jr.
Listen to this episode as Bruce Sr. and Bruce Jr. share with the Scaling UP! Nation the meaning of Cooling, primary concerns when it comes to Cooling, things industrial water treaters should know when working in Cooling, and of course, the importance of efficiency in Cooling.
How are Green products helping the industry? What are the top 4 things to look out for with Cooling? What does metal loss look like? What methods are used to save both energy and water? What does the future look like for people working on Cooling systems? Team Ketrick will answer these questions and so many more in this interview.
Join me, Trace Blackmore, the host of the Scaling UP! H2O Podcast and Bruce Ketrick Sr. and Bruce Ketrick Jr., as we celebrate Cooling Wednesday together.
Bottom line: Bruce Ketrick Sr. and Bruce Ketrick Jr. will introduce Cooling to students and recent graduates considering careers in water treatment. 
Your roadside friend, as you travel from client to client. 
-Trace 
Timestamps: 
Trace Blackmore welcomes you to Cooling Wednesday [00:01]
James McDonald's Cooling Water Story [02:52]
Solving Water Treatment mysteries with Trace Blackmore  [06:34]
Cooling Wednesday interview with Bruce Ketrick Sr. and Bruce Ketrick Jr. [11:50]
What I wish I knew about Cooling on my first day as a water treater with Russell Baskin [22:27]
Detective H2O: The Case of Misdiagnosis [29:28]
Quotes:
"I look at Cooling as the opportunity to improve people's lives. The more efficiently we do that, the less energy is utilized and the less water is utilized" – Bruce Ketrick Sr.
"The top 4 things to look out for with Cooling: Corrosion, Biological (fowling and industrial hygiene), Asset Management, and Energy Management." – Bruce Ketrick Jr.
Connect with Bruce Ketrick Sr.:
Email: bketrick@guardiancsc.com
Website: guardiancsc.com
LinkedIn, personal: in/bruce-ketrick-94111511
LinkedIn, company: company/guardiancsc
Connect with Bruce Ketrick Jr.:
Email: bjketrick@guardiancsc.com 
LinkedIn, personal: in/bruce-ketrick-jr-cwt-9b11189
LinkedIn, company: company/guardiancsc
Links Mentioned:
137 The One That's All About Cooling Towers, Part 1 (with Brett Alexander of EVAPCO) 
138 The One That's All About Cooling Towers – Part 2  (with Brett Alexander of EVAPCO)
237 Pinks and Blues: Cooling Towers, Part 1
240 Pinks and Blues: Cooling Towers, Part 2
265 The One About Legionella and a FedEx Package, Part 1 (with Russell Baskin of Tower Water)
266 The One About Legionella and a FedEx package, Part 2 (with Russell Baskin of Tower Water)
Scaling UP! H2O's Legionella Resources page