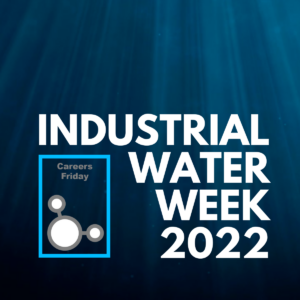 Welcome to the last day of Industrial Water Week. I'm your host Trace Blackmore, and I'm bringing back listener favorite Shawn McGrade of Kurita America for today's interview. Shawn's 2 previous episodes about his career experience in water treatment are some of our most shared podcast episodes, so if you know of someone considering a career in water treatment, this is the perfect episode to pass along to the water career-curious people in your life.
How did you get started in this industry? Were you born into it, like me, or did you fall into it like Shawn McGrade and James McDonald? What does your day-to-day look like? What does a bad day look like for a water treater? How do you show value to your clients? How do you not take losses personally? What advice do you have for professionals considering a career in water? Join me as Shawn answers these questions and a few more in this celebrated episode.
Bottom line: Shawn McGrade will introduce the abundant opportunities available to individuals considering careers in water treatment. 
Your roadside friend, as you travel from client to client. 
-Trace 
Timestamps: 
Trace Blackmore welcomes you to Careers Friday [00:01]
James McDonald's Careers Water Story [05:30]
Careers with Shawn McGrade [10:40]
What I wish I knew about having a Career in Water Tammy Faber [19:55]
Detective H2O: The Case of Seeing the Dead [25:15]
Quotes: 
"A day doesn't go by when you don't learn something new and exciting. You always need to have your thinking cap on, but that's all part of the fun." – Shawn McGrade 
Connect with Shawn McGrade:
Email: s.mcgrade@kurita-water.com
Phone: 651-788-2185 
Website: www.kuritaamerica.com
LinkedIn: in/shawn-mcgrade-08187114a
Links Mentioned: 
188 The One To Listen To If You Are Considering Becoming A Water Treater, Part 1 (with Shawn McGrade)
258 The One To Listen To If You Are Considering Becoming A Water Treater, Part 2 (with Shawn McGrade)
252 The One About the Operations Manager Turned Sales Manager (with Tammy Faber)