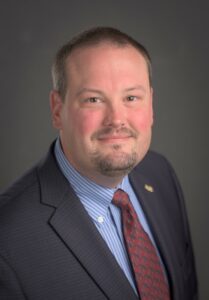 Happy New Year, Scaling UP! Nation. It's amazing how much we can accomplish in a year, and right now, at this moment, you get an entire year to accomplish your goals.
Take this week to plan your year because we all know that life set to default doesn't get us where we want to go. Don't live life by default; instead, do something new each and every day to make sure that you are getting the most out of it. Make sure you're working towards your goals every day this year. Build a life you can reflect back on and be proud of in 2023.
Bottom line: Trace Blackmore is going to teach you how to start the year off right by doing a SWOT Analysis with a twist.
Timestamps
Trace Blackmore's advice on making a plan for 2023 so you don't live life by default [01:30]
Periodic Water Table With James McDonald [08:25]
SWOT Analysis with a twist [10:30]
What's in store for the podcast in 2023 and Upcoming Events for Water Treatment Professionals [21:30]
Periodic Water Table 
…PBTC. First, what does PBTC stand for? What is its chemical formula?  What is it used for? What systems is it used in? How does it compare with other phosphonates? What does "calcium tolerance" have to do with PBTC? What concentrations is it used in industrial water treatment? Is it synergistic with any other water treatment chemicals? Do you use any products with PBTC in it right now? Which ones?
Quotes
"Instead of doing SWOT, do TOWS. Start with the Threats and work backward to your Strengths. By being externally focused on what Threats are out there vs. we are thinking about protecting what we already have you'll learn more." – Trace Blackmore
"We want to make sure everyone has access to clean drinking water."  – Trace Blackmore
"There is always something new to learn out there." – Trace Blackmore
"Take this week to plan your next year." – Trace Blackmore
"If your brain is getting bored, challenge it, and I promise it will change everything." – Trace Blackmore
"Don't sell on price. Sell on your values." – Trace Blackmore
Connect with Scaling UP! H2O
Email Executive Podcast Producer, Corrine Drury: corrine@blackmore-enterprises.com
Submit a show idea: Submit a Show Idea
Trace Blackmore on LinkedIn: in/traceblackmore/
Scaling UP! H2O on Facebook: @H2OScalingUP
Scaling UP! H2O on YouTube: ScalingUpH2o.com/YouTube
Links Mentioned
Ep 249 Jill Cavano's SWOT Analysis
Ep 288 The One Where Trace Blackmore Reflects On 2022
Events
Check out our Scaling UP! H2O Events Calendar where we've listed every event Water Treaters should be aware of by clicking HERE or using the dropdown menu.
Books Mentioned
Will It Fly by Pat Flynn
The 12 Week Year by Brian P. Moran