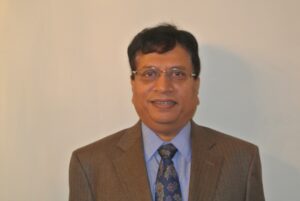 Welcome to Scaling UP! H2O, the podcast where we're passionate about water treatment, and we're committed to sharing that passion with you. Without water, we do not have a job. Without water, our planet cannot sustain life. That's why we're excited to introduce our guest today, Dr. Rakesh Govind.
Dr. Rakesh is a professor at the Chemical & Materials Engineering Department at the University of Cincinnati, and the president of NextGen Septic, a company that provides technical expertise on biological treatment processes for soil, air, groundwater, and wastewater clean-up applications.
Dr. Rakesh knows that if we don't change our water consumption and wastewater processing, some countries will run out of fresh water in the next 12 years. In this episode, he challenges the way we process wastewater and gives the biggest call to action we've EVER had on this podcast.
Dr. Rakesh answers many questions related to wastewater processing, including why we're doing it wrong and what we should be doing instead, why septic tanks aren't a good alternative to centralized treatments, and what the ideal decentralized system looks like. He also explains where aeration fits in, how we can retrofit systems to make them more efficient, and whether the size of the bubble matters when picking the right bubble for your wastewater system.
Furthermore, Dr. Rakesh shares insights into the ideal wastewater system design based on science, the ROI for industries switching from centralized to decentralized wastewater systems, and the language we should use when trying to persuade and inspire others to move away from centralized wastewater treatment.
Bottom line:
We must make swift and effective changes to the way we treat wastewater. If we don't change how we do wastewater today, we won't have any water to waste in the future. So, join us for this thought-provoking episode with Dr. Rakesh Govind, and let's explore the challenges and solutions in wastewater processing.
Timestamps
Trace Blackmore challenges you to learn and try something new [1:00]
Upcoming Events for Water Treatment Professionals [4:30]
Periodic Water Table With James McDonald [8:00]
Interview with Dr. Rakesh Govind, Professor, Chemical & Materials Engineering Department, University of Cincinnati [10:30] 
Ideas on how water treaters can work together to change the world [42:30]
Quotes
"We are depriving the land of the groundwater that is being used to make wastewater." – Dr. Rakesh Govind
"The future of wastewater is decentralized treatment." – Dr. Rakesh Govind
"We have to remember that fresh water on this planet is running out. It's not going to happen in 100 years, it's going to happen in the next 10 years. By treating the water locally, industries can reuse the water, and that reduces their net consumption of water." – Dr. Rakesh Govind
"Water doesn't have to go in the sewer line, save money on utilities, reuse the water." – Dr. Rakesh Govind
"Microbubbles benefits: 1. They don't stay in the water long enough to become nitrogen bubbles 2. They coalesce, they do combine and do not repel each other which allows the nitrogen to escape 3. High efficiency of oxygen transfer." – Dr. Rakesh Govind
Connect with Dr. Rakesh Govind
Email: rgovind@nextgenseptic.com 
Website: NextGen Septic
LinkedIn: in/rakeshgovind
Read or Download Dr. Rakesh Govind's Press Release HERE
Check out Dr. Rakesh Govind paper "Sustainable Treatment and Reuse of Water Using Decentralized Systems" HERE
Learn Dr. Rakesh Govind's "Ideal Wastewater System" by downloading the infographic HERE.
2023 Events for Water Professionals
Check out our Scaling UP! H2O Events Calendar where we've listed every event Water Treaters should be aware of by clicking HERE or using the dropdown menu.
Periodic Water Table With James McDonald
Let's get the basics out of the way first. What's the chemical formula of orthophosphate? Is it an anion or cation?  Even more complex is whether it is considered an anodic or cathodic corrosion inhibitor. Which is it? Why are phosphates used in boiler systems? What concentrations of orthophosphate are used in cooling and boiler systems?  Can orthophosphate be present in makeup water? If so, why and how could this impact the cooling and boiler systems? How do you test for orthophosphate? Is orthophosphate the same as polyphosphate or organophosphate? How does pH impact the effectiveness of orthophosphate? Does phosphate react with calcium?