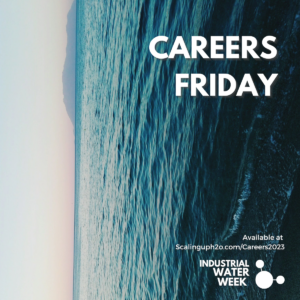 Welcome to the grand finale of Industrial Water Week 2023, Careers Friday! As we bring this year's celebration to a close, we're placing a spotlight on the significance of careers in industrial water treatment. Our goal is to provide water treatment professionals of all ages with the tools to enhance their understanding of generational perspectives on work, individual needs, and unique working styles. Our goal is to educate and serve as a valuable resource for professionals in the water industry, empowering employees to recognize the value of their own contributions and appreciate the diverse strengths that individuals from different generations bring to the company. Together, we create healthy and balanced water workplaces that benefit everyone.
We are pulling the most valuable insights from our episode vault featuring Chris Yee, the owner of Zenith Search Partners. We've carefully curated the most impactful segments from Chris' previous episodes, "Building the Best Multigenerational Workforce, Part 1 and 2." Whether you're embarking on your career journey or are a seasoned professional, Chris shares invaluable wisdom. He's a trusted authority in crafting a resilient and harmonious multigenerational workforce, dedicated to bridging unnecessary generational divides.
Are you curious what are the five generations currently active in water treatment and their age ranges? Wondered how each generation approaches work? Chris addresses these questions, shedding light on the unique work styles and needs of employees from each of the five generations.
And here's a fantastic reminder – Industrial Water Week isn't just a one-time event; it's an annual celebration that occurs every first week of October. Mark your calendars and join us in commemorating this important occasion.
As always, we're here to help you scale up on knowledge so you don't scale up your systems. 
Your roadside friend as you drive from client to client,
-Trace Blackmore, CWT
Timestamps
0:01 – Trace Blackmore welcomes you to Industrial Water Week's Careers Friday
9:50 – Chris Yee, owner of Zenith Search Partners talking about how to build the best multi generational company
20:10 – Detective H2O in The Case of Hard Diagnosis 
Quotes
"No matter what generation an employee falls into, all employees need the following 4 things: Trust, Compassion, Stability, and Hope."- Chris Yee
"Have a clear corporate vision, clear corporate values, and make sure that they're not just talk or words or a poster, or a tagline, or part of your signature block." – Chris Yee
"Engage your employees. Act like you care. Show them that you care by asking, "how are you doing?" – Chris Yee
Connect with Chris Yee
Phone: 713-936-9601 
Email: Chris@ZenithSearchPartners.com 
Website: Zenith Search Partners
LinkedIn: company/chemrecruiter
Understand a Multigenerational Workforce better by downloading the infographic HERE
Learn the 4 things all employees need HERE
Links Mentioned
Free Industrial Water Week Resources