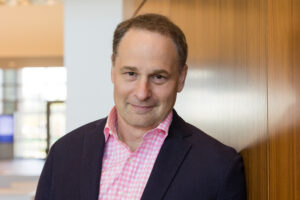 Water treatment is not just a crucial element of our infrastructure; it's the very foundation of clean, safe drinking water for our communities. Imagine a scenario where hackers breach a community's water supply, contaminating it with hazardous chemicals, and suddenly, everyone is at risk. This isn't a distant threat; it's a reality we must confront. In this episode of Scaling UP! H2O, we're here to emphasize the importance of cybersecurity within the water treatment industry.
Water treaters, it's time to scale up on knowledge! Your role is pivotal in ensuring the well-being of countless individuals who rely on clean water. Unfortunately, cybersecurity in water treatment often takes a backseat, leaving systems vulnerable. Attorney Justin Daniels, our esteemed guest, a seasoned expert in corporate M&A and tech transactions, shares why this issue demands immediate attention.
As Justin Daniels aptly puts it, "Water treatment is on the forefront of concern from a cybersecurity perspective because it can have such widespread and significant consequences. The other thing that makes it so challenging is it doesn't always get the tender love and care from a budgetary and resource perspective which makes it an even more attractive opportunity to make a splash in the worst way of the word, not the pun we would intend."
Join us as we scale up on knowledge about:
Protecting sensitive data in water treatment.

Safeguarding customers and communities from cyber threats.

Navigating government regulations tied to cybersecurity.

Cultivating robust cybersecurity habits and a proactive mindset.

The influence of artificial intelligence on cybersecurity.

Scrutinizing and securing your technology ecosystem's applications and permissions.

Immediate actions for a safer approach to phone usage.
Don't miss "The Hidden Threat: Cybersecurity in Water Treatment." Ignoring this critical issue is not an option. Our water supply's security is on the line, and it's time to take action. Join us and be a part of ensuring clean water access for all communities.
Timestamps
1:00 Upcoming Events for Water Treatment Professionals 
8:30 Public speaking, TED talks, and entrepreneurship
10:30 Interview with Justin Daniels on how water treaters can protect themselves and their communities from cyber security risks  
31:00 Justin's TED Talk experience and public speaking advice
43:00 Justin's advice on M&A and risk management 
51:30 Periodic Water Table With James McDonald 
Quotes
"Water treatment is a critical part of critical infrastructure." – Justin Daniels
"One of the biggest challenges you have is that you have OT (operational technology) and (IT) your system network, so you need to narrowly focus who has access to them and to what level they have access. This requires high effort and resources." – Justin Daniels
"Technology is only as good as the motivations behind the people using it." – Justin Daniels 
"I want business owners to use cyber security to build customer trust. I want to use privacy to build trust because 'how you treat people's data is how you treat them'." – Justin Daniels 
Connect with Justin Daniels 
Phone: 404.229.6847
Email: jdaniels@bakerdonelson.com
Website: www.bakerdonelson.com
LinkedIn: in/justinsdaniels
Read or Download Justin Daniels' Press Release HERE
Listen to the She Said Privacy/He Said Security Podcast with Justin and Jodi Daniels
Data Reimagined: Building Trust One Byte at a Time by Justin and Jodi Daniels
Justin Daniels Links Mentioned
The Oldsmar, Florida Sodium Hydroxide Case 
The Colonial Pipeline Hacking Case
SEC Adopts Rules on Cybersecurity Risk Management, Strategy, Governance, and Incident Disclosure by Public Companies
Homeland Security Division CISA (Critical, Infrastructure, and Security Agency)
FBI and CISA's #StopRansomware
National Institute of Standards and Technology's The Cyber Security Framework (CFF)
TEDxTalk: Justin Daniels' You hold the key to overcoming cyber-threats
Justin Daniels headlined Atlanta Cyber Week 2017
Podcast Links Mentioned
325 Rising Together: Conquering Challenges through Collective Support
060 The One About Public Speaking
2023 Events for Water Professionals
Check out our Scaling UP! H2O Events Calendar where we've listed every event Water Treaters should be aware of by clicking HERE or using the dropdown menu.
Books Mentioned
Data Reimagined: Building Trust One Byte at a Time by Justin and Jodi Daniels
TED Talks by Chris Anderson
Periodic Water Table With James McDonald
What do the letters ATP stand for? How do cells use ATP? How do you test for ATP? Why would you want to test for ATP? Is ATP found only in living cells or can it be found in dead cells, too? Does this distinction matter? Can the concentration of ATP be correlated to plate counts of microorganisms? When cleaning a system, what do changes in the ATP concentration tell you?