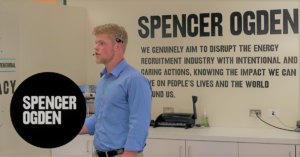 No matter what type of business you are in, we all share one universal issue:  How do we find the "Right People" to hire?  For those of you that don't know, I define" Right People" as people who enhance our culture.  I speak about this in more detail in episodes 44 and 45. 
Finding new "Right People" is an issue we are currently faced with at my company, Blackmore Enterprises, Inc.  The good news is we are growing, the bad news is we are having issues with finding the "Right People" to help us fulfill our company's mission.  So, what do you do to find these "Right People?"  We have tried job boards, social media, word of mouth and colleges.
That being said, we have never tried using a company that specializes in finding talent to go out and find these "Right People" for us.
Being curious about this possible avenue, I decided to interview a "headhunter" on the podcast.  Many have written in asking questions about finding new talent so I figured why not the Scaling UP! Nation! learn along with me.  Please enjoy my interview with Chase Squires.
Chase Squires is a Professional Staffing Consultant with Spencer Ogden, specializing in helping Water, Wastewater and Environmental companies strategically grow with highly qualified personnel within niche avenues in the industry.
Timestamps
Where do you go to get the right people? [0:00:47]
What is a Headhunter? [0:04:03]
Company Culture [0:11:32]
Why do people leave the water industry [0:20:18]
AWT [0:24:25]
Millennial's [0:26:02]
Process on how to hire people [0:29:32]
Why should we use a Headhunters? [0:32:24]
Realistic Expectation [0:43:30]
Customer's characteristics [0:44:20]
Quotes
"70% out of the 2000 Millennial's in the survey said that they would quit a job if it lack high performance and didn't have fast technology." – Chase Squires
"If you're showing up to an interview make sure you have what you need and look professional." – Chase Squires
"As an employer, continue to open up barriers and don't keep people stuck in the corner in a position. Give people room to grow." – Chase Squires
"Growing from within culture needs to come back and it needs to make a big impact." – Chase Squires
"Somebody once told me that hiring is the same exact word as scaling. It means, when everything was working perfectly in your company you are going to multiply that out!" – Trace Blackmore
"Make sure that there is proper trainings and documentations so your employees are set up to succeed." – Trace Blackmore
Links Mentioned
Jobs in the Water Treatment Industry