077 Pinks and Blues: Testing Questions
Episode 77: Show Notes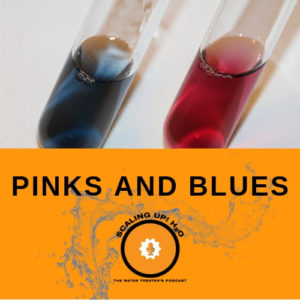 Water treaters run test.  That's a fact.  However, the tests should never run the water treater.  How well do you know your tests?  Do you know how they work?  Do you know how to tell when your tests are "lying" to you? 
Many of you have written in asking about specific testing questions.  Today's show will not only answer those questions but hopefully get you to start questioning every test that you run. 
Key Points From This Episode:
Sample Testing [0:01:02]
Personal Protective Equipment (P.P.E) [0:01:42]
Iron Hardness Test [0:04:04]
Sulfate Results [0:07:12]
Spectrophotometers [0:11:19]
And a lot more!
Tweetables:
If you ever have a question about any of your tests, test your test.  Never be afraid to run experiments on your tests as long as you can verify what the correct result should be. @traceblackmore #scalinguph2o #scalingup #scalinguppodcast #scalingupnation #scalinguph2opinksandblues #testingquestions
Water Treatment Professionals use their power of observation to see everything that is going on in that system since the last time that they were there. @traceblackmore #scalinguph2o #scalingup #scalinguppodcast #scalingupnation #scalinguph2opinksandblues #testingquestions