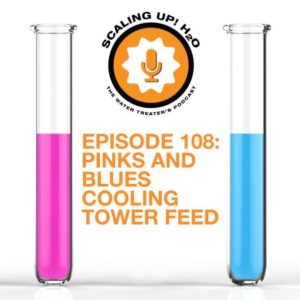 I hope you had a great time celebrating industrial water week.  I also hope part of your celebration included listening to an episode of Scaling UP! H2O each and every day last week.  The next Industrial Water Week is October 5th, 2020.  So, start your celebration planning early to beat the rush! 
You have heard me ask the Scaling UP! Nation! For help in topics for this show.  Today I am going to answer one of those questions from one of our Nation! Members.  Jinapat wants to know what the different ways are to feed inhibitor on a cooling tower controller.  
Thank you Pat! 
So, today's episode is all about Pat's question.  Join me (and Pat) as we learn about all the different feed options for putting inhibitor into a cooling tower (I even though a bit extra in there too, biocide feed.) 
Do you have a question you want me to answer on Scaling UP! H2O?  Simply click on the "Leave Voicemail" button on the left side of the our homepage, or go the the show ideas page.
Timestamps:
Schedule For Industrial Water Week 2020 [01:46]
Questions For Trace [06:30]
Different Feed Options [10:10]
Bleed After Feed [12:28]
Ways To Feed Cooling Towers [16:32]
P-TolueneSulfonic Acid (PTSA) [19:32]
Biocide Feed [23:54]
Sodium Hypochlorite [30:20]
Oxidation Reduction Potential [32:48]
Quotes:
"Don't write 'everything's good' on a service report. Everything is not good, there's always something you can do to make it a little bit better." – Trace Blackmore
Connect with:
Jim Lukanich on LinkedIn: in/jim-lukanich-b73a2635
Jinapat Yoswattana on LinkedIn: in/jinapat-yoswattana-cwt-2bb29864
Links Mentioned:
003 Controllers with Tom Tinney