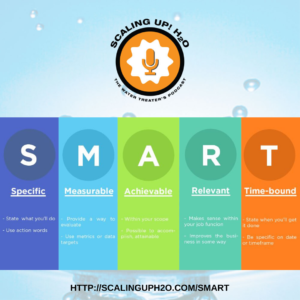 Nation! Happy 2020!!  
Everyone gets excited about the New Year. Some look at it as a fresh start. Others look at it as a time to get things accomplished. And I know some look at it as 11 months until you have to produce results for the end of the year. (I see you out there!) 
Last year, I took Nation through a process I do every year called SCOLL and SMART. I talked about SCOLL on the previous week's episode when I wrapped up my year of Scaling UP! H2O. If you missed it, listen to that episode first. Today's episode is about planning the upcoming year. I do this with a tool called SMART. SMART is a tool that allows you to get results from your goals.   
SMART stands for
Specific a

nswer the questions: 


"What is to be done?"
"How will you know your goal is completed?" 
Describe the results (end product) of the work to be done. Write your description in such a way that anyone reading the objective will most likely interpret it the same way. Specific goals are observable. Observable means that somebody can see or hear (physically observe) what you are doing.
Measurement (use measurement) answers the question:
"How will you know it meets expectations?"
Define the objective using assessable terms (quantity, quality, frequency, costs, deadlines, etc.). It refers to the extent to which you evaluate against a standard. An objective with a quantity measurement uses terms of amount, percentages, etc.. A frequency measurement could be daily, weekly, 1 in 3. A goal with a quality measurement would describe a requirement in terms of accuracy, format, within university guidelines.


 

Achievable answers the questions:
"Can the person do it?"
"Can the measurable objective be achieved by the person?"
"Does he/she have the experience, knowledge, or capability of fulfilling the expectation?"
"Can it be done giving the time frame, opportunity, and resources?"
Each of these items must be included in the SMART objective if they will be a factor in the achievement.
Relevant answers the questions:
"Should it be done?"
"Why?" 
"What will be the impact?"
Time-oriented

answers the question:
"When will it be done?"
It refers to the fact that an objective has endpoints and checkpoints built into it. Sometimes a task may only have a due date. It might signify the end of the task, or it might launch you into the start point of another. Sometimes a task has several milestones or checkpoints along the way to help you or others assess how well something is going. Checkpoints are reminders to allow for corrections or modifications to ensure that results meet expectations. Other times, an employee's style is such that the due dates or milestones are there to create a sense of urgency that helps them to get something finished. 

 
We've created a downloadable that will help you through this process. Click here to download your S.M.A.R.T Objectives Worksheet.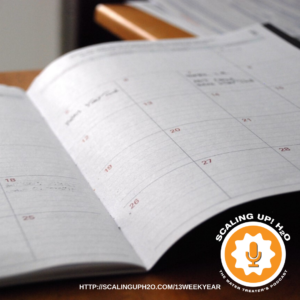 Another one of my favorite techniques to get things accomplished is running a 12-week year. Most of us wait until year-end is upon us to take action with our objectives. Human nature is to create urgency when time is running out. The 12-week year plan takes advantage of that natural mindset by chopping up the year into 12-week segments.    
The 12-week year uses the SMART tool and combines it with a scorecard around metrics that you will hit every week. Brian Moran wrote a book called The Twelve Week Year and I highly recommend reading it. Using this technique will allow you to get more done in 12 weeks than others do in a year.  
Click here for another downloadable that will walk you through the Twelve Week Year.
Please Note: In the episode I refer to it as the 13-Week Year. This is because I use it over a period of thirteen weeks. Thanks for understanding!
Timestamps:
Think And Grow Rich [00:05]
The Rising Tide Mastermind [00:35]
Atomic Habits [03:08]
Wins and Loses Last Year [04:51]
What is S-M-A-R-T? [08:05]
The 13 Week Year [14:03]
How Much Do You Plan? [19:40]
The Recap [21:20]
Five (5) Minute Journal [22:53]
Quotes:
"Most of us don't have a problem in planning, most of us have a problem in execution." 
"Always re-evaluate your plans." 
"When it comes to goal planning, less is more."
Links Mentioned:
Books Mentioned: 
Think And Grow Rich by Napoleon Hill
Atomic Habits by James Clear
The 12 Week Year: Get More Done in 12 Weeks than Others Do in 12 Months by Brian P. Moran and Michael Lennington