133 The One With The Water Treater, John Fleig  
Episode 133: Show Notes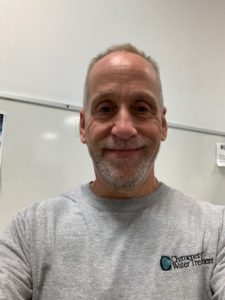 Nation!, one of my favorite things to do on this podcast is to talk to other water treaters. As a fellow water treater, I can relate to the trials and tribulations others in our industry face. I am continuously amazed at how water treaters will selflessly help other water treaters with issues. We are a part of such a great community! I have developed some great relationships because I ask a fellow water treater a question on how to do something.  The bottom line: don't be afraid to ask someone to help you!  
Our guest today is a water treater that has seen a lot during his career. John Fleig of Chemenergy Water Treatment shares with us some of his experiences in the industry. This is a conversation you don't want to miss! 
Please welcome John Fleig.  
Key Points From This Episode:
Scranton Associates [0:00:09]  

 

7 Habits Of Highly Effective People [0:02:26]  
Checklists [0:07:05]   
Day To Day with John Fleig [0:17:28]   
Posting On Social Media [0:23:40]   
Learning The Business [0:26:48]  
Advice From John Fleig [0:32:347]   
Things We Need To Stop Doing [0:35:42]  
And A Lot More!
Tweetables:  
"I love working off a checklist. Checklists are amazing because it allows you to take a mental picture of all you need to get done without taking up head space. From there, all you have to do is check items off the list. " @TraceBlackmore   @JohnFleig  @CHEMENERGY #watertreatment #Masterminds #MastermindGroup #RisingTide #CWT #IWC #AWT #scalingupnation #scalinguppodcast #scalinguph2o #scalingupandbeyond #traceblackmore #7habits #VA #watertreatmentindustry #chemenergy #socialmedia 
"We like to use 5S at Chemenergy. 5S means keep it simple, keep it clean, and go back and look at your processes to make sure you haven't cluttered them up."  @JohnFleig @TraceBlackmore @CHEMENERGY #watertreatment #Masterminds #MastermindGroup #RisingTide #CWT #IWC #AWT #scalingupnation #scalinguppodcast #scalinguph2o #scalingupandbeyond #traceblackmore #7habits #VA #watertreatmentindustry #chemenergy #socialmedia
"I want to keep it fun and not put too much pressure on things. We have a new theme and sales goals every 90 days. I find that by keeping it fun and trusting my team we actually reach our sales goals." @JohnFleig @TraceBlackmore @CHEMENERGY #watertreatment #Masterminds #MastermindGroup #RisingTide #CWT #IWC #AWT #scalingupnation #scalinguppodcast #scalinguph2o #scalingupandbeyond #traceblackmore #7habits #VA #watertreatmentindustry #chemenergy #socialmedia
Links mentioned On This Episode:
Books:  
The Miracle Equation: The Two Decisions That Move Your Biggest Goals from Possible, to Probable, to Inevitable