I am always looking for ways to find out what I don't know I don't know. The problem with that is you don't know what you don't know, you know…  
For this reason, I try to put myself in situations to force what I don't know to become apparent to me.
Some of the ways I do this is:  
Reading 

 

Going to events 

 

Listening to podcasts 

 

Participating in mastermind groups (like 

The Rising Tide Mastermind

) 

 

Working with a personal coach 

 

Having others hold me accountable 

 

And the list goes on.

 
Again, you don't know what you don't know, so you have to put yourself in places that help bring the unknown to light. As the host of Scaling UP! H2O, I am very aware that there is a lot to know about running a podcast. And, there is a plethora of stuff I don't know. So, in following my advice I do all of the above.  
About a year ago, I was at a podcasting event called Podcast Movement. It was a convention about podcasting. And boy, did I learn that I didn't know a lot of things! During one of the breakout sessions I went to attend a session on promoting your podcast through social media. It should have been named how to use LinkedIn better. Because it was all about LinkedIn. I'm not sure I would have attended it if it was called that. During that session, the presenter shared some fantastic tips about social media but specifically LinkedIn. Today's show is all about that session I attended and have been practicing from that time.  
Here are the tips he gave during the session: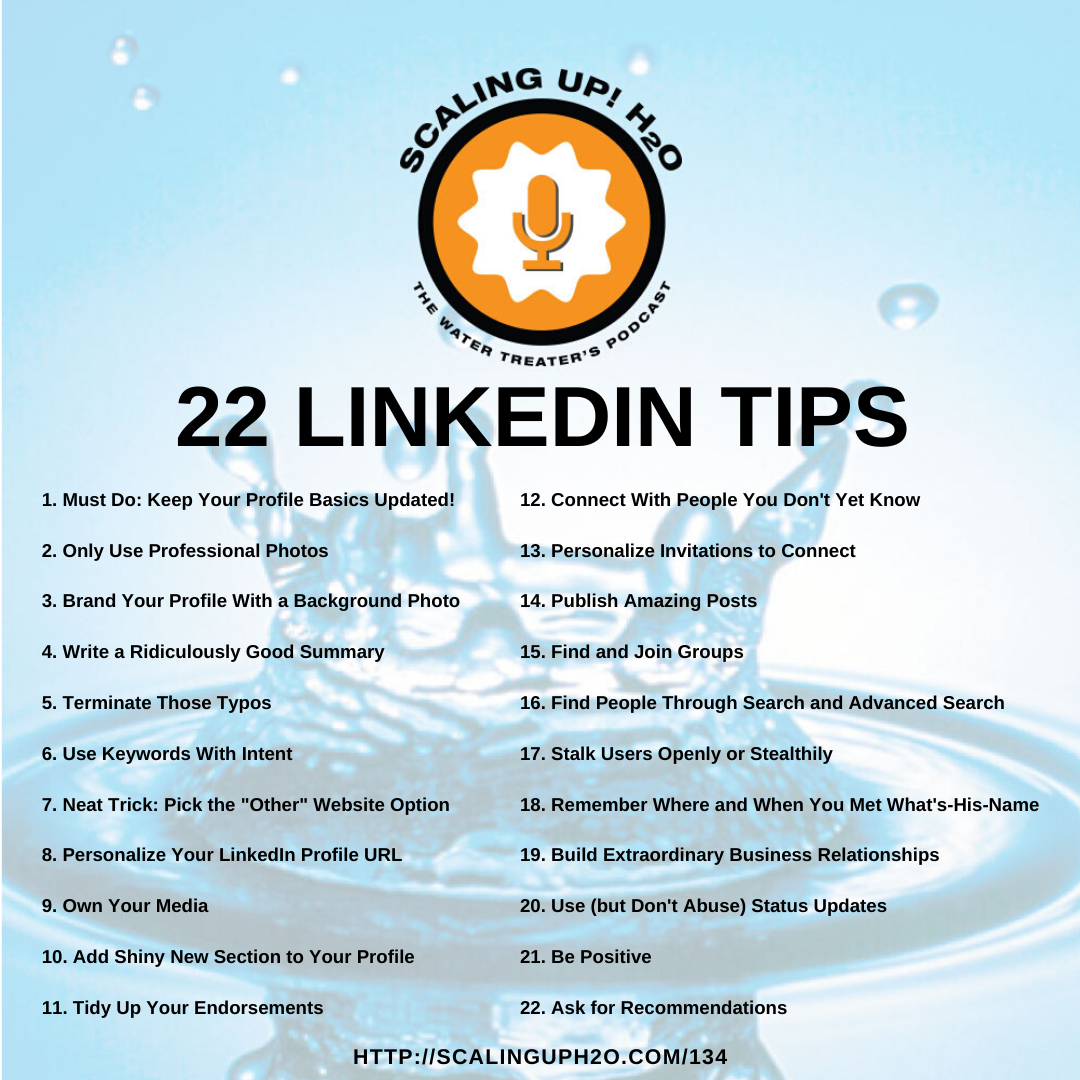 Many in the Scaling UP! Nation have asked me how to expand their network of contacts.  I believe that today's episode will not only answer that question, but it will also help you polish your online presence.   
Timestamps:
Scranton Associates [00:10]
April 17 History [01:38]
Tips For Social Media Presentation [06:40]
Use Of Keywords [11:48]
Create And Share Content [14:25]
Connect with LinkedIn [16:20]
LinkedIn Group [18:40]
Quotes:
"The more that you're seen the more that people will see you as the expert." – Trace Blackmore
"If you find something that you feel is worthy of sharing, go ahead and share it because it allows people to see that you're posting content." – Trace Blackmore
"Always be positive when you're writing, whether content or your summary about LinkedIn, make sure it always has a positive tone." – Trace Blackmore
"New information does not normally find you, so what are you doing to find what new information that you need?" – Trace Blackmore
Links mentioned: