Nation! I am so excited to introduce you to the man who leads my weekly Mastermind group, Aaron Walker. 
Aaron Walker has founded more than a dozen companies over the past 42 years. He attributes much of his success to having surrounded himself with his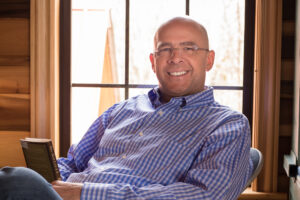 Mastermind counterparts. Aaron spent a decade meeting weekly with Dave Ramsey, Dan Miller, Ken Abraham, and other outstanding entrepreneurs. Aaron is the founder of Iron Sharpens Iron Mastermind that now hosts 20 groups with National and International members. Aaron lives in Nashville, Tennessee, and he has so many wonderful stories and advice to share today! 
As you know, I lead several Mastermind groups myself. A large reason I can pour into other leaders in the water treatment industry is because of the individuals I meet with weekly in the Mastermind group. Aaron says to think about a Mastermind as "Your own personal board of directors" who help you personally and professionally. Life is way too difficult to do it alone. We are built as human beings to work with other people. I've found that joining a Mastermind can help you grow through vulnerability, coaching, honesty, and camaraderie.  
If you are a water treater interested in joining a Mastermind, please visit scalinguph2o.com/mastermind to learn how together we can raise up the water treatment industry. 
Timestamps:  
Upcoming Events [1:30] 
James' Challenge: "Review all your accounts to ensure you've lived up to all your obligations. If not, develop a plan." [6:20]  
Introducing Aaron Walker AKA "Big A" [11:40] 
A kid working at a pawn shop in Nashville [13:12] 
Life after "retiring" at 27 years old [18:16] 
The journey from Aaron's first Mastermind group with Dave Ramsey to leading his own group [22:00] 
So what is a Mastermind? [32:34] 
How do you define success? [39:02] 
Lightning Round Questions [43:35] 
Trace's Leadership Challenge [47:00] 
Quotes:  
"We've all got superpowers and we've all got blind spots." – Aaron Walker 
"Dang! You don't know what you don't know." – Aaron Walker 
I've read thousands of books as a result of being in a Mastermind." – Aaron Walker 
"A Mastermind is your own personal board of directors." – Aaron Walker 
"It's about legacy and helping others transform."- Aaron Walker 
"Today I would measure 'success' in terms of others success, instead of my own." – Aaron Walker 
"If we're not having fun, we need to change direction." – Aaron Walker 
"If you don't have a mentor, you are missing out on a golden opportunity." -Trace Blackmore 
"Life is way too difficult to do it alone. We are built as human beings to work with other people." -Trace Blackmore 
"A leader is somebody who makes other leaders." – Captain David Marquet of The United States Navy 
Aaron's Southern Sayings: "That's as useless as tits on a boar hog" and "That's a big gentleman." 
Connect with Aaron Walker:
LinkedIn: in/aaronwalkerviewfromthetop
Website: www.viewfromthetop.com
Links Mentioned: 
029 The One with the Submarine Captain (with Captain David Marquet)
Books Mentioned: 
Band of Brothers: The War Memoirs of Major Dick Winters by Cole C. Kingseed & Richard D. Winters
The Success Principles by Jack Canfield
The 7 Habits of Highly Effective People by Steven Covey
Never Split The Difference by Chris Voss
Turn The Ship Around! by Captain David Marquet's