When it comes to unorthodox leadership wisdom, look no further than my guest today, Michelle Reines.
 Michelle Reines is a speaker, author of the book "From Bad To Badass Leader: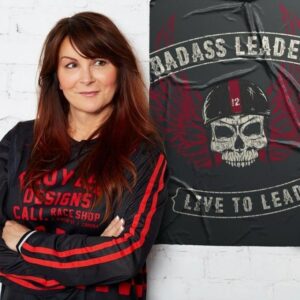 12 Leadership Lessons", executive coach, entrepreneur, founder of MDR Coaching & Counseling, Inc, and creator of the unconventional Badass Leader Brand. 
 Early in Michelle's leadership journey, she was an absolute Ass as a boss, oblivious to the impact she was having on people! Perhaps, like many of you, she didn't understand how to lead.  
 Today's episode is full of Michelle's thrills of victories and agonies of defeat, with the goal of helping you to unlock the art of leading like a Badass!  
Michelle Reines' 12 Leadership Lessons: 
Lesson 1. Don't Be An Ass 
Lesson 2. Stop, Drop, Take a Selfie 
Lesson 3. Let's Talk About Trust, Baby 
Lesson 4. Put Your People First 
Lesson 5. Be An Epic Coach 
Lesson 6. Build A Badass Team 
Lesson 7. Create The Struggle 
Lesson 8. Suck It Up, Buttercup 
Lesson 9. Don't Be A Kissass 
Lesson 10. Be A Groupie For Your Team 
Lesson 11. Expand Your Tribe 
Lesson 12. Love Somebody Like You 
Bottom line: 
Because, when you think about it, doesn't everyone want to be a Badass Leader or at least work for one? 
 Your roadside friend, as you travel from client to client.  
-Trace  
Timestamps:  
Introducing my favorite Badass Leader, Michelle Reines [6:40] 
Her journey of starting as a bad leader to becoming a Badass Leader [9:15] 
How to recognize the "symptoms" of bad leadership before they become big problems [11:17] 
What to do when you realize you are a bad leader [12:29] 
When teams overcompensate for the bad leadership [14:18] 
Platinum Style Coaching [16:12] 
The Peter Principal [18:00] 
Michelle's cataclysmic fall from grace, AKA the day the whole team walked out [20:32] 
What are human metrics that should be on your leadership scorecard [24:07] 
The 12 Leadership Lessons in Michelle's book [29:45] 
Scaling Up Badass Leader Gift Page [38:08]
Lightning Round Questions [40:43] 
James' Challenge: "Research chlorine dioxide." [47:45] 
Quotes: 
"Badass is not a bad word, and being a Badass Leader is actually a strength." – Michelle Reines  
"Leadership is a choice; it is not a title." – Michelle Reines  
"If your office has a revolving door on it, it's probably your leadership." – Michelle Reines  
"If your time is being spent repetitively solving conflicts, it's probably a leadership issue." – Michelle Reines  
"If your phone is ringing off the hook and you're constantly dealing with customer complaints, it's probably a leadership issue." – Michelle Reines  
"Invest in yourself." – Michelle Reines  
"In this day and age, there is no excuse for failing to develop yourself." – Michelle Reines  
"You need critical feedback to develop our teams and ourselves." – Michelle Reines  
"Great leaders focus on people development." – Michelle Reines  
"Instead of making the mistake and assuming you are better than the person in charge, it's important to manage your ego and ambition and find a way to partner for success instead of competing with the leader." – Michelle Reines  
"Leadership is a choice, it's not a title." – Michelle Reines  
"You have to prioritize people over performance." – Michelle Reines  
"Give sugar-free feedback." – Michelle Reines  
"Peers are partners, not competitors." – Michelle Reines  
"We cannot be the best leaders if we are not taking care of ourselves and our families." – Michelle Reines  
"There's nothing more important than spending time with those you love." – Michelle Reines  
12 Leadership Lessons Graphic: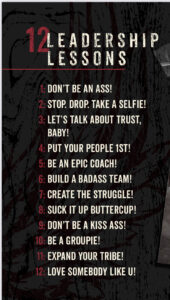 Connect with Michelle Reines:
Website: badassleader.com
LinkedIn: in/michelledreines
Twitter: @MichelleReines
Phone: (949) 378-4242
Email: michelle@badassleader.com
MDR Coaching & Consulting, Inc website: mdr4you.com
Links Mentioned: 
177 The One Where Disney Meets Water Treatment (with Dennis Snow)
194 The One Where We Learn About Productivity Tools (with Danny Bauer)
AWT (Association of Water Technologies) 
Books Mentioned: 
From Bad To Badass Leader: 12 Leadership Lessons by Michelle Reines 
The 7 Habits of Highly Effective People by Stephen Covey 
The New One Minute Manager by Ken Blanchard and Spencer Johnson MD 
Tools of Titans by Tim Ferriss 
Emotional Intelligence 2.0 by Travis Bradberry and Jean Greaves 
The Five Dysfunctions of a Team by Pat Lencioni