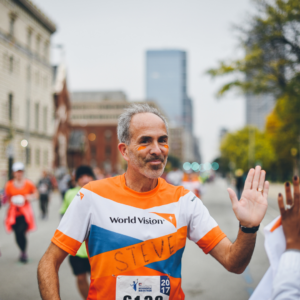 Happy World Water Day! We've been celebrating World Water Day since 1993, and this year we are celebrating in an extra special way. My guest today is someone whom I introduced on Episode 236 when I interviewed Reid Hutchison; it's none other than Steve Spear of Team World Vision. 
World Vision is a Christian humanitarian organization dedicated to working with children, families, and their communities to combat poverty and injustice. They are also the largest non-governmental provider of clean water in the world. One of the ways they provide clean drinking water to families and children is by organizing a yearly event that we are going to talk more about in this episode: the Global 6K for Water.
But first, let me introduce you to Steve Spear. Steve leads a team of 40 staff at World Vision, the largest Christian organization on the planet, engaging churches across the U.S. to make a difference for the most vulnerable children. Before that, he held a senior-level leadership position at Willow Creek Community Church in South Barrington, IL for 15 years, and was the head of various pioneering efforts. 
Steve has done many mind-blowing things for his advocacy to bring clean water to communities that need it the most. He ran across the country, from Los Angeles to New York to raise over $500,000 for clean water. In 2017, the U.S. Congress recognized Steve for his humanitarian work and as a role model for all Americans. 
I'm also happy to announce that the Scaling UP! H2O podcast has created a team for this year's Global 6K for Water happening on Saturday, May 21, 2022, and I want YOU to join our team! You can learn more about Team Scaling UP! Nation or make a donation HERE.
We'd love for you and your friends, family, and co-workers to join Team Scaling UP! Nation, but if you'd like to make your own Global 6K for Water team for your business/employees, please reach out to Steve Spear at sspear@worldvision.org.
Bottom line: You can bring clean drinking water to communities that need it most just by putting one foot in front of the other at the Global 6K. We can bring awareness to this issue, and participate as a global water treatment community.
Your roadside friend, as you travel from client to client.  
-Trace 
Timestamps: 
Happy World Water Day! [01:11]
Thinking On Water With James [04:00]
Introducing Steve Spear of Team World Vision [06:04]
Running across the United States in 2013 for clean water [07:23]
Pushing on amidst the challenges [14:49]
What does World Vision do, exactly? [17:05]
What can water treaters do to help end the world water crisis? [18:46]
Painting a picture of what it's like in communities with no access to clean water [20:40]
Finding his purpose: bringing clean water to communities that don't have access to it [25:39]
Why is it a 6K run and not a 5K: a distance of solidarity [26:01]
How World Vision brings clean water to communities [30:00]
How to sign up for the Global 6K for Water and get involved [35:44]
Thinking On Water With James: 
In this week's episode, we're thinking about how saturated brine is then diluted during the softener regeneration brine-draw cycle.  Why is this?  On the surface, it seems oxymoronic to work so hard to achieve a saturated brine in the brine tank only to dilute it during the brine-draw cycle in the regeneration process.  What impact would using saturated brine have on the resin beads?  Operationally, why does it make sense to dilute instead of achieving the desired brine concentration upfront?  You've probably not even thought much about this one part of the softener regeneration process before, but take this week to think about it and the entire process. 
Quotes:
"When I got to Battery Park (after running across 14 States), there was just this overwhelming sense of gratefulness." – Steve Spear
"World Vision officially began in 1950, and we are now in about 100 countries, with 40,000 staff worldwide." – Steve Spear
"World Vision's goal is to serve the most vulnerable children." – Steve Spear
"The work that we do on the ground is done indigenously." – Steve Spear
"Sometimes, we take water for granted here in the US. In the developing world, we know the lack of clean water is the number one cause of preventable death on the planet." – Steve Spear
"Education becomes an opportunity, healthcare skyrockets because the base layer of water, which is needed for every other building block to move a community out of poverty, is taken care of." – Steve Spear
"One of the key things we do at World Vision that activates people is child sponsorship, putting a name and a face to the cause." – Steve Spear
"I devote myself to inviting others to put one foot in front of the other to create a whole new future for children with no access to clean water." – Steve Spear
"6K is the average distance that women and children walk in the developing world to get water." – Steve Spear
"6K is a distance of solidarity." – Steve Spear
"Anybody can do a 6K; people run it, tons of people walk it." – Steve Spear"
Water is life." – Steve Spear
"Anyone can do a 6K; I've done it with a 78-year-old woman with a walker." – Steve Spear
"World Vision is the largest non-government provider of clean drinking water on the planet." – Steve Spear
Connect with Steve Spear:
Phone: (630) 414-1300 
Email: sspear@worldvision.org
Website: global6k.worldvision.org
LinkedIn: in/steve-spear-19aa71146
Links Mentioned:
236 The One Where We Talk About Waters Treaters Changing The World
Events:
World Water Day – March 22
2022 Technical Training Seminars – March 30 to April 02 in Cleveland, OH