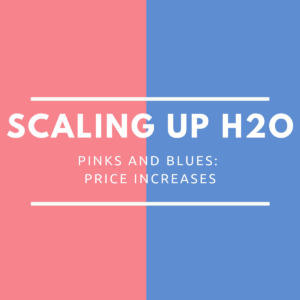 On episode 221, I hosted a Raw Materials Supply Chain Update Roundtable with Mike Standish of Radical Polymers, Jill Cavano of Scranton Associates, John Zibrita of Zibex, and Gary Garcia of Masters Company. We talked about Supply Chain issues, and how it is affecting the water treatment industry. Since then, I've received numerous questions about something that is concerning many water treaters right now: Price Increases.
People in the industry are concerned with the number of Price Increases we are getting hit with right now in all areas of business from Asset Control, Labor Raises, Business, and Workforce Growth, to Transportation, Insurance and Utilities; how should we pass those Price Increases to our customers, and what are the consequences of passing on those Price Increases to them? Today, I am going to talk about what happens if we don't increase our prices, the economics of pricing your services, and how to have a "Price Increase" conversation with a customer. 
Bottom line: Today we're going to talk through the economics of Price Increases.
Your roadside friend, as you travel from client to client. 
-Trace 
Timestamps: 
Pinks and Blues and new events [2:00]
Thinking On Water With James [08:52]
Price Increases: The questions on everybody's mind [10:40]
Simple Economics: Why you should increase your Pricing [15:02]
When your customer objects to a Price Increase [18:50]
The Supply Chain Materials Shortage Issue [19:58]
How to initiate a Price Increase conversation with a customer  [25:15]
Why keeping a good relationship with a customer is important  [30:48]
How to create a Win-Win for you and your customer [35:20]
Episodes to listen to get more information about the Supply Chain issue [40:57]
Thinking On Water With James:
In this week's episode, we're thinking about the dangers of our job and how we can be safer. Industrial Water Treatment has inherent dangers that must be acknowledged and managed. From hot, pressurized boilers, acids, and caustics to confined spaces, energized equipment, and environmental exposure. Do you think about your safety every day? You are the first line of defense in your own safety, after all. What resources do you have to not only learn about any dangers but also how to manage them? Take this week to think about your safety and the impact not just upon you but upon those around you as well. 
Quotes:
"When we're talking about Price Increase, we are not talking about price-fixing. We're talking about responding to the market and to all of the things that happen." – Trace Blackmore
"(Losing a business due to a Price Increase) might not be the worst thing depending on how you're looking at the full picture." – Trace Blackmore
"We need to look at making sure we're doing regular Price Increases just to keep up with all increased prices."- Trace Blackmore
"If the company is not making a profit, we are not in a healthy company." – Trace Blackmore
"Strong companies are constantly evaluating how much money is coming in, how much money is going out, and is that acceptable with what the company has to make." – Trace Blackmore
"We are in a Supply Chain breakdown right now." – Trace Blackmore
"If the material is not available, the Price is going to go up." – Trace Blackmore
"Anything that is not a win on both the client's and customer's side will not work long term successfully." – Trace Blackmore
"We have to make sure that we get a win so that we can help our customer win too." – Trace Blackmore
"The more information your customer knows, the better decisions they can make." – Trace Blackmore
"When Prices go up, a healthy company needs to increase their Pricing." – Trace Blackmore
"We have to make a profit in order to stay in business. Profit is essential in order to stay a valuable company." – Trace Blackmore
Connect with Scaling UP H2O: 
Email: corrine@blackmore-enterprises.com (podcast producer)
Submit a show idea: Submit a Show Idea
Scaling UP! H2O on LinkedIn: company/scalinguph2o
Scaling UP! H2O on Facebook: @H2OScalingUP
Links Mentioned:
236 The One Where We Talk About Waters Treaters Changing The World
Team World Vision: Join Team Scaling UP Nation for the 6K
221 Raw Materials Supply Chain Update Roundtable
223 Pinks and Blues: Phosphonate Replacements
Events:
The Hang – April 14, 6:00 p.m. EST, USA
2022 AWWA Sustainable Water Management Conference – March 27 to 30 in Denver, CO
World Water Day – March 22
Books Mentioned:
The 7 Habits of Highly Effective People