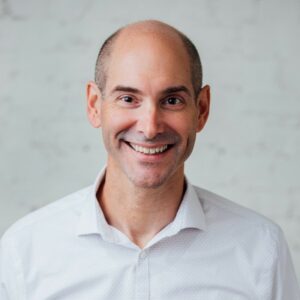 Scaling UP Nation, I will talk about something that I personally don't gravitate to, and maybe you have been putting it on the back burner as well: Marketing. That is why I invited Marketing Professional Mark Robinson, the co-founder of LeadPillar to teach us different Marketing Techniques so we can create our own Marketing Plan. 
Mark calls himself a "Marketing Nerd" or "Marketing Addict". One of the things he likes doing most is looking at Marketing Campaigns to find any hidden message and what makes them work. But more than that, as a Marketing Professional, Mark helps his customers by finding their own "big idea" that differentiates them from all other products in the market. He has helped launch products, software, and generate experiences that lead to customers. Mark leverages his  years of experience in Management Consulting and technology to deeply connect to customers and understand where they want to go. 
If you are a water treatment company owner and you don't have a Marketing plan for your company, this episode is for you.
Bottom line: Marketing is not a mystery, it's a system; and today Marketing Expert Mark Robinson is going to show you how to create a system for your company. 
Your roadside friend, as you travel from client to client. 
-Trace 
Timestamps:
April Fools and upcoming Events [1:25]
Thinking On Water With James [07:14]
Introducing Marketing expert, Mark Robinson [11:10]
Making a memorable Marketing Campaign [14:24]
Starting Marketing at your water treatment company[15:18]
The Marketing process: understanding the customer [16:50]
Pinpointing your Advertising to your target market [20:31]
Guerilla Marketing Technique: creatively do it yourself [22:33]
Marketing Advice for the Scaling Up!H2O Podcast [24:14]
What drives the best Marketing Campaigns [26:41]
Language for water treaters to use in advertising [29:29]
Lightning round questions [32:53]
Mark and I are in the same Mastermind group and this is what it looks like [35:00]
Thinking On Water With James:
In this week's episode, we're thinking about what times of the year evaporation is the heaviest and lightest in a cooling tower? How do the humid, dog days of summer impact cooling tower evaporation? Conversely, how do the frigid days of winter impact evaporation? How does this factor into your industrial water treatment calculations? What is a yearly average for evaporative cooling in your area? 75%? 80%? Something else? How do changing rates of evaporation impact the Holding Time Index throughout the year, and why could this matter? Take this week to think about how cooling tower evaporation may change with the seasons and the impact it may have on your system. 
Quotes:
"What makes Marketing good is when someone hears the message, and they take it, and they internalize it, and it becomes their own message." –  Mark Robinson
"If the company has customers today, you would really want to start by establishing relationships with customers." –  Mark Robinson
"The more you understand the customer's pains and results that they want, the more you can create the right marketing that sells to the customer." – Mark Robinson
"Marketing Campaigns have one main component: the very deep connection to the person you are trying to reach." – Mark Robinson
"A successful campaign is based on loving other people and giving them what they need and what they want." – Mark Robinson
"Let's not do any random Marketing; let's not copy people. Just because other people are getting success from one marketing technique, doesn't mean you will have the same results." – Mark Robinson
"If it's not measurable, it's not Marketing." – Mark Robinson
"Masterminds are a great idea, and I encourage the Scaling Up Nation to join what's right for them." – Mark Robinson
Connect with Mark Robinson:
Cell Phone: (423) 903-9432
Website: leadpillar.com
LinkedIn: https://www.linkedin.com/company/leadpillar
Facebook: https://www.facebook.com/markrobinsonpro/ 
Links Mentioned:
Events:
The Hang – April 14, 6:00 p.m. EST, USA
Water Quality Association Convention & Exposition – April 6 to 8 in Orlando, FL
Wastewater, Water and Resource Recovery Conference – April 10 to 13 in Poznan, Poland
Books Mentioned:
Scientific Advertising by Claude C. Hopkins
The 1-Page Marketing Plan: Get New Customers, Make More Money, And Stand Out From The Crowd by Allan Dib