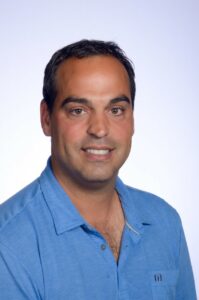 When you know that you need to hire someone, what do you look for? How do you know if the person you are interviewing is a good fit? What does your hiring process look like? In today's market, do you still find it easy for you to find the right person for an open position? 
If hiring the right person is something that you are struggling with, then this episode is for you. My lab partner today, Chris Bellizzi, is someone who has been coaching business owners for years on this topic, and this is something he is very passionate about.
Chris Bellizzi started his career in the Water Treatment industry fresh out of college. After graduating with a degree in Chemical Engineering in 1994 from the University of Washington, he went on to work at NALCO. He started as a Sales Representative, and was promoted to  District Manager three times and eventually became the Regional Manager in the middle market business sector at NALCO. Currently, Chris is the General Manager at EAI Water and the Managing Partner at ApHinity. ApHinity from EAI is a brand of technologies based on the science of chemical affinity. The technologies ApHinity offers play a critical role in the challenging water conservation, reuse, and recycling environments of today. Chris is also a Certified Legionella Water Safety and Management Specialist and a Certified Water Treater.
Chris and his wife Elsa have four daughters – two of whom are now working in the water industry (not for Chris!), and he loves being able to  "talk shop" with them.
If you are a Water Treatment company owner or a hiring manager, this episode is for you! Chris will share with us why building trust and delivering results are the foundations of finding the right people for your company, the 10 traits that he looks for when interviewing someone, why setting expectations is important, and how perpetuating the OKG (our kind-of-guy / our-kind-of-gal) mentality made him and his team better Water Treaters!
Bottom line: Chris Bellizzi will share with us his keys to hiring the best people for open positions at your  company.
Your roadside friend, as you travel from client to client. 
-Trace 
Timestamps: 
Why the water treatment industry is the best industry for people who love to learn [00:54]
Thinking On Water With James [06:55]
Promoting Legionella Awareness Month in August and other industry events [08:15]
Finding the right people is difficult [11:23]
Introducing Chris Bellizzi, the General Manager at EAI Water and the Managing Partner at ApHinity [14:02]
Why building trust and delivering results are the foundations of finding the right people [18:49]
Where to find candidates and the 10 traits to look for when interviewing candidates [22:00]
The art of hiring slowly [43:21] 
Setting expectations [50:33]
Perpetuating the OKG (Our-Kind-of-Guy / Our-Kind-of-Gal) mentality [55:04]
Lightning round questions [1:03:57]
Thinking On Water With James: 
In this week's episode, we're thinking about how to properly store pH probes. Why is pH probe storage important? What can happen if stored improperly? Can a pH probe be stored dry? Can it be stored in city water or distilled water? What about storing it in a pH 4, 7, or 10 buffer solution?  Why would one be better than another? Is there a storage solution designed for pH probes? How might the storage solution be applied to the rubber cover often used to protect probes between uses? Take this week to think about your pH probe and what proper storage means to its accuracy and lifespan. 
Quotes:
"I was able to become a District Manager at a very young age, and it forced me to learn how to run teams and grapple with the issue of hiring at a very early age." – Chris Bellizzi
"What are the core values that clients really buy from over the long term? Number 1, they buy trust, number 2, they buy results." – Chris Bellizzi
"Credibility + Reliability + Intimacy ÷ Self-Focus = Trust." – Chris Bellizzi
"The non-negotiable traits I look for in an interview are people with low self-ego, high-integrity, high emotional intelligence, someone who cares, and a passion for mechanical and chemical things. The negotiables are work ethic, someone that got your back, social leadership, competitive drive, an aptitude for mechanical and chemical things." – Chris Bellizzi
"There is no one solution in Water Treatment; there are a variety of ways to get from Point A to Point Z." – Chris Bellizzi
"In the Water Treatment Industry, people that are successful are those that are very comfortable initiating the relationship." – Chris Bellizzi
"The longer the interview process, the better. The art is in managing your expectations as the hiring manager and the interviewee's expectations, and not losing people along the way." – Chris Bellizzi
"Prioritize hiring the right values and behaviors over experience and booking business." – Chris Bellizzi
"The Water Treatment Industry should never be boring. It comes with its built-in alarm, and that alarm is if you ever feel bored, you are doing this job wrong." – Trace Blackmore
"Life is too short. Do something you love, you'll never work another day in your life." – Trace Blackmore
Connect with Chris Bellizzi:
Phone: (949) 939-7162 
Email: cbellizzi@eaiwater.com 
Website: eaiwater.com
LinkedIn: in/chris-bellizzi-a08b6863
Links Mentioned:
The Demographic Drought – presentation by Author and Economist Ron Hetrick
173 The One With the Exit Plan
The Every Man Ministries Podcast
AWT (Association of Water Technologies)
Events:
August is Legionella Awareness Month
Smart Water Summit – August 29 to 31 in San Antonio, Texas
Water Infrastructure Conference – September 11 to 14 in Portland, Oregon
StormCon 2022 – September 26 to 28 in National Harbor, Maryland
Books Mentioned:
The Ideal Team Player by Patrick Lencioni
Revenue Growth Engine by Darell Amy