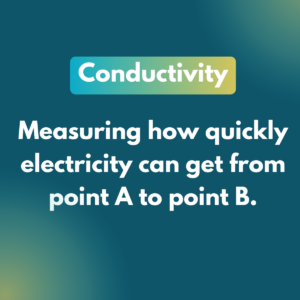 Welcome to the Scaling UP! H2O Podcast. As water treaters, we have a multitude of tools at our disposal, but it's crucial to understand what we're testing for and how our tests work on a basic level. In this week's episode of Pinks and Blues, we're delving into the intricacies of water treatment by focusing on the difference between two important measurements: Total Dissolved Solids (TDS) and Conductivity.
TDS and Conductivity are crucial metrics in water treatment, as they provide key information about the quality and purity of the water we're treating. However, many water treaters don't fully understand the nuances of these measurements, which can limit the effectiveness of their treatment methods.
On this episode of Pinks and Blues, we'll explore the science behind TDS and Conductivity, and how these measurements can be used to optimize water treatment processes. Whether you're a seasoned water treatment professional or just starting out, you'll gain valuable insights and knowledge that will help you scale up your water treatment expertise.
Bottom line:
Get ready to expand your understanding of water treatment and join us as we explore the critical difference between TDS and Conductivity.
Timestamps
Upcoming Events for Water Treatment Professionals [1:00]
Periodic Water Table With James McDonald [4:30]
Trace Blackmore answers your Pinks and Blues questions about the difference between TDS and Conductivity [6:00]
Quotes
"Where you take the temperature really does matter." – Trace Blackmore
"The solution to pollution is dilution…or said another way 'The solution to concentration is dilution'." – Trace Blackmore
"Calcium Carbonate (equation) – a water treater's nemesis, because it impedes heat most often."  – Trace Blackmore
Connect with Scaling UP! H2O
Email Producer: corrine@blackmore-enterprises.com
Submit a show idea: Submit a Show Idea
LinkedIn: in/traceblackmore/
Facebook: @H2OScalingUP
YouTube: @ScalingUpH2O
Links Mentioned
Scaling UP! H2O Academy video courses
2023 Events for Water Professionals
Check out our Scaling UP! H2O Events Calendar where we've listed every event Water Treaters should be aware of by clicking HERE or using the dropdown menu.
Periodic Water Table With James McDonald
You might already know that HEDP is a phosphonate, but what does that mean?  What does HEDP stand for?  What is its molecular formula? What percentage of HEDP is phosphate?  Is HEDP used for scale control, corrosion control, or both?  Is HEDP synergistic with anything else?  Does pH have an impact?  Can HEDP precipitate with anything?  If so, how might this be controlled?  Do oxidizing biocides, such as chlorine, have an impact upon HEDP?  How does this impact compare to that of other phosphonates?  Do you use any products with HEDP?