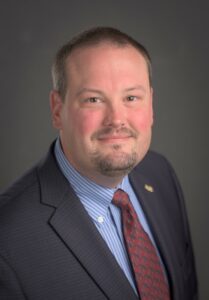 Welcome to Scaling UP! H2O, the podcast designed to empower industrial water treaters like you with the Legionella knowledge you need to excel in your field. As Trace Blackmore, the Scaling UP! H2O host kicks off Legionella Awareness Month 2023, Scaling UP! H2O is excited to present an episode that answers listener questions about Legionella so you can scale up your Legionella knowledge. 
To stay up-to-date with the latest developments in Legionella research and regulations, visit scalinguph2o.com/Legionella. There, you'll find a treasure trove of Legionella resources, podcast episodes, legislative updates, and informative videos to help you bolster your knowledge and sharpen your ability to guide clients effectively.
This Legionella Awareness Month, we encourage you to embrace this opportunity to expand your expertise and fortify your communication skills on this critical topic. With Trace Blackmore as your guide, you'll be better equipped to navigate the world of Legionella and make a positive impact as a water professional. Tune in to this episode, and let's scale up our knowledge together!
Timestamps
Trace Blackmore kicks off Legionella Awareness month [1:00]
Upcoming Events for Water Treatment Professionals [6:00]
What is Legionella? [8:27]
How does Legionella bacteria cause illness? [10:19]
Who is most at risk of getting Legionnaires Disease? [12:00]
What to do when your system tests positive for Legionella? [17:00]
How did Legionella get its name? [20:00]
What's the difference between testing for Legionella and a water management plan? [23:00]
What are the 7 steps in a Water Management Plan? [27:00]
When was the latest outbreak of Legionnaires Disease? [30:00]
Periodic Water Table With James McDonald [35:00]
Quotes
"You are never going to get zero Legionella Bacteria, but we can not allow it to concentrate up. We need to monitor and treat it. The goal isn't no Legionella, the goal is no Legionnaires Disease." – Trace Blackmore, CWT
"A water management plan, in my opinion, is something that everybody should have.
Just testing the client's water is not a water management plan." – Trace Blackmore, CWT
"You need to build trust with your client and that means having a plan for what to do if a system tests positive for Legionella with your client before it happens." – Trace Blackmore, CWT
Connect with Scaling UP! H2O
Email Producer: corrine@blackmore-enterprises.com
Submit a show idea: Submit a Show Idea
LinkedIn: in/traceblackmore/
Facebook: @H2OScalingUP
YouTube: @ScalingUpH2O
Links Mentioned
264 The One About The Legionella Chill Pill
212 The One About What To Do When Your System Tests Positive For Legionella
140 The One That Helps Us Reopen Building Water Systems
121 Another One with Dr. Janet Stout, Part 2
120 Another One with Dr. Janet Stout, Part 1
Centers For Disease Control And Prevention: Toolkit
Scaling UP! H2O Academy video courses
2023 Events for Water Professionals
Check out our Scaling UP! H2O Events Calendar where we've listed every event Water Treaters should be aware of by clicking HERE or using the dropdown menu.
Periodic Water Table With James McDonald
This week's topic is a little basic, but let's go.  What are all the uses for sodium hydroxide in industrial water treatment?  How is the solubility of sodium hydroxide impacted by concentration and temperature?  In what environments and what times of the year may this make a difference when shipping and using sodium hydroxide?  What's the chemical formula of sodium hydroxide?  What problems can it cause in an industrial water system?  Why is sodium hydroxide used in some chemical product formulations?  What safety precautions should be taken when handling sodium hydroxide?  Why is sodium hydroxide also called caustic or caustic soda?