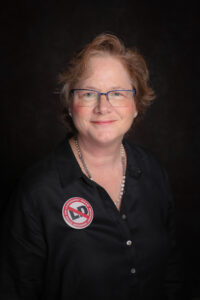 Welcome to the Scaling UP! H2O podcast – your ultimate source of inspiration and knowledge on all things Legionella Awareness Month! With the ever-evolving world of Legionella prevention and water treatment, there's always something new to discover and learn.
As we celebrate Legionella Awareness Month 2023, we've brought back podcast-favorite guest, the brilliant Janet E. Stout, PhD, a renowned legionellologist from the esteemed Special Pathogens Laboratory to share cutting-edge updates on Legionella and impart crucial information to water treaters.
Gone are the days of 'ignorance is bliss' when it comes to water treatment and Legionella. As regulations tighten, we all must stay informed and be proactive in safeguarding our systems. By scaling up our knowledge, we can effectively scale down the risks and ensure the safety of our communities.
At Scaling UP! H2O, we believe in the power of education to empower individuals and communities. Armed with knowledge, we can confidently tackle water treatment issues, educate others effectively, and create a ripple effect of better decisions for a safer environment. Join us to boost your Legionella Awareness knowledge and equip yourself to face new challenges, embrace advancements, and make a difference in the fight against Legionella. Tune in, absorb the insights, and be part of the movement to create a safer world through increased Legionella knowledge.
Timestamps
Captain H2O reminds us that everyone can celebrate Industrial Water Week 2023 [2:30]
Upcoming Events for Water Treatment Professionals [6:30]
Periodic Water Table With James McDonald [9:00]
Interview with Dr. Janet E. Stout for Legionella Awareness Month 2023  [11:00]
Lightning Round Questions [1:02:00]
Quotes
"Dr. Stout's Legionella Chill Pills: for the treatment of Legionella Related Anxiety. Take 2 one hour before Legionella testing. If anxiety persists, contact the experts at Special Pathogens Laboratory." – Dr. Janet E. Stout 
"As a legionellologist, I'm always asking myself "How can we best protect people?" – Dr. Janet E. Stout
"Legionella testing will keep you out of trouble." – Dr. Janet E. Stout
"Test to protect. The only way to verify that your (water treatment) program is working is to test." – Dr. Janet E. Stout
"Janet Stout , PhD, legionellologist is on a mission to end Legionella. She doesn't take things at status quo, she makes everything better" – Trace Blackmore
Connect with Janet E. Stout, PhD
Phone: 412.281.5335
Email: jstout@specialpathogenslab.com
Website: www.specialpathogenslab.com
LinkedIn: in/janet-e-stout-ph-d-32607612
company/special-pathogens-laboratory
Read or Download Janet E. Stout, PhD's Press Release HERE
Janet's podcast episodes
264 The One About The Legionella Chill Pill
222 The One Where Janet Stout Shares Key Industry Updates
140 The One That Helps Us Reopen Building Water Systems
121 Another One with Dr. Janet Stout, Part 2
120 Another One with Dr. Janet Stout, Part 1
Links Mentioned
Puzzled By Legionella (A Guide to Understanding Detection, Prevention, and Water Management)
Take Special Pathogen's Lab 3-day training and get certified to the ASSE/IAPMO/ANSI 12080 Standard: Professional Qualifications Standard for Legionella Water Safety and Management Personnel 
Environmental risk of nontuberculous mycobacterial infection: Strategies for advancing methodology by Janet E. Stout, PhD, et al.
Scaling UP! H2O Academy video courses
AWT (Association of Water Technologies)
2023 Events for Water Professionals
Check out our Scaling UP! H2O Events Calendar where we've listed every event Water Treaters should be aware of by clicking HERE or using the dropdown menu.
Books Mentioned
The Daily Stoic by Ryan Holiday and Stephen Hanselman
Where the Crawdads Sing by Delia Owens
The 7 Habits of Highly Effective People by Stephen R. Covey
Periodic Water Table With James McDonald
What's the difference between sulfate and sulfite?  What is the chemical formula for sulfate?  What problems can sulfate cause in an industrial water system?  What impacts its solubility with calcium?  What about barium?  What chemical products adds more sulfate to an industrial water system?  What treatment technologies can remove sulfate from water?  How is calcium sulfate scale cleaned?  Can you predict the solubility of sulfate salts in a water system?  What rules of thumb or calculation programs are available?