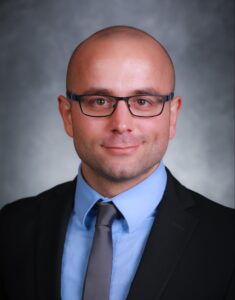 Welcome to a special episode of Scaling UP! H2O, the podcast specifically tailored for industrial water treaters looking to scale up their Legionella knowledge. As part of our Legionella Awareness Month celebration, we are honored to bring you an insightful interview with a leading expert in the field. Join us as we sit down with Alberto Comazzi, Ph.D, Technical and Business Development Manager at Sanipur US. For those unfamiliar with Dr. Alberto Comazzi, he was our guest on episode 212 What To Do When Your System Tests Positive For Legionella, our most popular episode of 2021.
Throughout this episode, we explore the various disinfectant options used to combat Legionella, gaining invaluable insights into their strengths and limitations. Alberto sheds light on the key considerations water treaters should keep in mind when choosing the most effective Legionella remediation strategy.
Join us as we discuss the steps water treaters can take before a positive Legionella test, including the benefits and drawbacks of shock disinfection methods. We delve into the advantages and challenges of using fast oxidants like chlorine or chlorine dioxide, as well as the challenges of relying solely on temperature increase to eradicate Legionella from building plumbing systems.
Alberto offers his expertise on implementing continuous disinfectant and how to have meaningful conversations with customers about this treatment option. We explore the supplemental disinfectants available, such as Monochloramine and Copper Silver, and learn about their long-term efficacy and potential impact on plumbing systems.
As we navigate the regulatory landscape, Alberto shares crucial insights on the frequency and interval of testing required for continuous disinfection compliance. He also emphasizes the significance of permits and the role they play in protecting public health.
Join us for a comprehensive discussion on "The Pros and Cons of Legionella Disinfectant Options" with Alberto Comazzi, Ph.D. Whether you're an experienced water treater or just beginning your journey in the industry, this episode promises to provide essential knowledge to help you make informed decisions and enhance your Legionella remediation strategies.
Timestamps
2:30 – Upcoming Events for Water Treatment Professionals
13:22 – Preparing for a Positive Legionella Test
15:50 – Actions for Legionella Counts Exceeding 30%
20:20 – Shock Disinfection Options and Challenges, and Validating the Effectiveness of Shock Disinfection
27:40 – Establishing and Installing Continuous Disinfectant
36:16 – Frequency and Interval of Testing for Continuous Disinfection
37:00 – Permits and Compliance for Supplemental Disinfectants
42:00 – Liability and Due Diligence: Choosing the Right Method
52:00 – Periodic Water Table With James McDonald 
Quotes
"Healthcare buildings need to have a water management plan." – Alberto Comazzi, Ph.D.
"Shock disinfection options: you want fast oxidants, so chlorine or chlorine dioxide. Or heating the temperature to a point where the bacteria will die, but it's harder to kill Legionella in a plumbing system because there are so many facets, and it's impossible to
Building owners want this because it's easy, but it's not effective and usually comes back. You may want to get to 140, but you actually need to get up to 150 or 160, which creates water restrictions." – Alberto Comazzi, Ph.D.
"The states that require a permit to feed supplemental disinfectant will require how often you test, and you will need to show your data back to the state. You would need to research who has authority for drinking water in your state (EPA, DOH, DP), and then you would ask them if a permit is needed for the application of supplemental disinfectant on drinking water."  – Alberto Comazzi, Ph.D.
"Right now there is a greater awareness about pathogens in general, building managers are more likely to be testing for Legionella to make sure the residents of those buildings are safe."  – Alberto Comazzi, Ph.D.
"It's well reported in the literature that shock treatment is not effective over the long term. Chlorine and Chlorine Dioxide do damage a building's plumbing system. In a shock treatment, you would not use heat and hyperchlorination because the higher the temperature, the faster the chlorine will decay in the water."  – Alberto Comazzi, Ph.D.
"A building is a completely different ecosystem than a water treatment utility and a  municipal distribution system."  – Alberto Comazzi, Ph.D. 
Connect with Alberto Comazzi, PhD: 
Phone: 267-326-2353
Email: a.comazzi@sanipur.it 

Website: www.sanipur.com   

Linkedin: /in/alberto-comazzi-phd-132637128/ 
Read or Download Alberto Comazzi's Press Release HERE
Links Mentioned
Trace Blackmore invites you to check out our Legionella Resources Page
212 The One About What To Do When Your System Tests Positive For Legionella
Environmental Protection Agency's "Technologies for Legionella Control in Premise Plumbing Systems: Scientific Literature Review"
Environmental Protection Agency's "Guidance Manual for Compliance and Disinfection Requirements for Public Water Systems Using Surface Water Sources"
2023 Events for Water Professionals
Check out our Scaling UP! H2O Events Calendar where we've listed every event Water Treaters should be aware of by clicking HERE or using the dropdown menu.
Periodic Water Table With James McDonald
Ammonia comes into play in several different ways within industrial water treatment.  What are some sources of ammonia that may be coming in with the makeup water?  How is ammonia used in refrigeration?  Could this ammonia contaminate the water side?  How is ammonia sometimes used in boilers?  Are there some industries that prohibit such use of ammonia in boilers?  How does ammonia react with chlorine?  Why is this reaction important, and what does it have to do with breakpoint chlorination?  How do you remove ammonia from water?  How does pH affect the removal of ammonia?  How does the impact of pH on ammonia removal compare to the impact of pH on carbon dioxide removal?  Which metallurgies may be less compatible with ammonia?