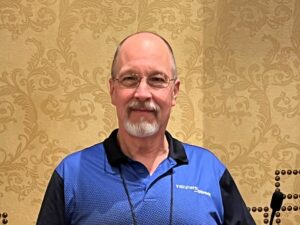 Step right up and get ready to snicker and learn as we welcome the one and only "Flow Meter Guy," Brent Baird of Instruments Direct, on this week's episode of Scaling UP! H2O! Prepare to be entertained and educated as Brent, with his comical and dry sense of humor, takes us on a journey through the fascinating world of flow meter technology.
As water treaters, we know that knowledge is power, and understanding flow is the key to effective water treatment. And who better to guide us than Brent, a true industry expert with a lifetime of experience? He's the go-to enthusiast when it comes to ultrasonic flow meters, and he's here to share his wisdom with all of us.
From ultrasonic technology to magnetic flow meters, Brent dives into the different types of flow meters and their applications in the water treatment industry. He'll teach you how to select the perfect flow meter for your specific needs, whether you're dealing with potable water or non-potable water applications. Brent shares his comical anecdotes and stories from the field. He's not your average industry expert, and his witty banter will keep you engaged and entertained throughout the episode.
And that's not all! Brent unveils the future innovations that promise to make flow meters even smarter and user-friendly. Imagine flow meters that practically do the job themselves! If you've ever wondered how to troubleshoot flow meter issues or validate the data they provide, Brent's got you covered with essential tips to ensure your flow meters work accurately and efficiently.
The Scaling UP! H2O podcast is globally ranked in the top 3% of all podcasts, and this week's episode with Brent Baird promises to be a true gem. So tune in and discover why he's earned the title of "The Flow Meter Guy." Get ready to scale up your knowledge and revolutionize your water treatment processes with Brent's insights.
Timestamps
1:00 – Upcoming Events for Water Treatment Professionals
5:30 – Periodic Water Table With James McDonald 
8:00 – Interview with Brent Baird, "The Flow Meter Guy", from Instruments Direct
39:00 – Lightning Round Questions
Quotes
"Flow Meters are becoming easier and easier to use each day." – Brent Baird
"Trying to make an engineer laugh is hard." – Brent Baird
"You need to be like your customers. Dress like them,  and act like them because that's how you build trust." – Brent Baird
"Don't micromanage: Hire smart people, surround them with smart people, and get out of their face and let them do their job." – Brent Baird
Connect with Brent Baird
Phone: 678.445.7675
Email: bbaird@instrumentsdirect.com
Website: www.instrumentsdirect.com 
LinkedIn: in/brent-baird-33b3b927/
YouTube: @InstrumentsDirect
Read or Download Brent Baird's Press Release HERE
Links Mentioned
Scaling UP! H2O Academy video courses
2023 Events for Water Professionals
Check out our Scaling UP! H2O Events Calendar where we've listed every event Water Treaters should be aware of by clicking HERE or using the dropdown menu.
Books Mentioned
The Theory of Sound by J. W. S. Rayleigh
The Aqueducts of Rome by Sextus Julius Frontinus
The Salesman of the Century by Ron Popeil
Periodic Water Table With James McDonald
How is alum used in industrial water treatment?  What is the chemical formula for alum?  Is this a simple question or could alum mean different things to different professions and industries?  In regards to industrial water treatment, what function is alum performing when used?  How does the use of alum impact solids produced as compared to inorganics?  Can alum be used in both raw water and wastewater treatment?  What are common strengths of alum used?  What could happen if alum is overfed?  What could be the impact upon downstream unit operations?