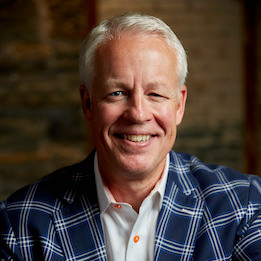 OK Scaling UP! Nation! You know that I love business. And I love helping people in business even more. If there is a common denominator with almost every business I help, it is that they are trained to be water treaters, but not to be business owners or managers.
Here I go again, more on EOS, The Entrepreneural Operating System. EOS has helped me and my company more than any other system or book. Today, we cannot imagine working without it. I also use EOS as a tool to help other companies I work with. And… They love it as much as I do. Join me as I interview Mike Paton of EOS Worldwide. We talk about how to solve most of the problems we all have in business. So, if you own a business or work for a business, get ready to learn about one of the best tools for any business.
FREE TOOL: EOS Delegate and Elevate
Mike Paton has been learning from entrepreneurs for most of his life. Today he works hard to give back – as an award-winning speaker, best-selling author, Certified EOS Implementer™, and as the Visionary for EOS Worldwide.
Paton discovered the Entrepreneurial Operating System® (EOS) a dozen years ago while trying to take a $7 million company to the next level. Feeling stuck and more than a little frustrated, his search for answers led him to Gino Wickman and EOS. Having helped run four entrepreneurial companies, Paton instantly recognized the power of this simple, holistic "way of operating" a small business. He quickly became a passionate advocate, joined the Professional EOS Implementer Community, and dedicated himself to helping other entrepreneurs get what they want from their businesses.
Since then, Paton has conducted more than 1,200 full-day sessions with the leadership teams of more than 110 companies and helped thousands more entrepreneurs by sharing EOS in dynamic talks and workshops the world over. During that journey, Paton wrote Get A Grip: An Entrepreneurial Fable with Gino Wickman and then succeeded Gino in the role of Visionary for EOS Worldwide. In that role, he leads a close-knit community of more than 250 Professional EOS Implementers™ around the globe – each passionate about helping entrepreneurs run better businesses and live better lives.
Timestamps
Entrepreneurial Operating System (EOS) [0:00:46]
Book Recommendation [0:01:22]
How to take advantage of EOS [0:05:04]
What is EOS? [0:08:05]
Lessons Learned [0:09:42]
EOS Creed [0:10:16]
Common frustrations and challenges [0:10:39]
EOS activities [0:14:33]
Why is it called an Operating system? [0:22:20]
EOS Series books [0:28:16]
FREE tools [0:33:39]
Learning more about EOS [0:36:22]
Quotes
"Lesson #1: If the people in-charge don't want to run their business this way, it will not work!" – Mike Paton
"Don't lose sight of your vision and your passion." – Mike Paton
"Make sure to surround yourself with great people who are good at and have passion that your business needs." – Mike Paton
"Trust the process!" – Mike Paton
"I urge you to try something new so you can get better results." – Mike Paton
"Folks! We are almost 10K Subscribers and we're in 57 countries. And the only way that is happening is because you. The Scaling UP! Nation are out there!" – Trace Blackmore
Links Mentioned
The Entrepreneurial Operating System
Mike Paton Email: mpaton@eosworldwide.com
Books Mentioned
Essentialism: The Disciplined Pursuit of Less
EOS Series books
Traction: Get a Grip on Your Business
Rocket Fuel: The One Essential Combination
Get a Grip: An Entrepreneurial Fable
Shows Mentioned
Ep 22: The One with Tim Fulton